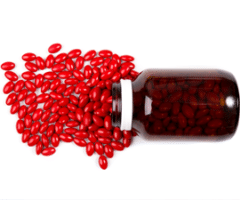 Currently, there are a number of chemotherapy and targeted anticancer drugs approved or under investigation for the treatment of lymphoma that can be taken by mouth, either in liquid or tablet/capsule form.  Oral agents are just as effective and can have similar side effects as anticancer drugs that are given intravenously.
Oral agents are a convenient option for patients because they can be taken at home.  However, as patients are typically responsible for ensuring they take their pills, there may be an increased risk of medication errors, such as forgetting/skipping pills or self-adjusting the dosage, which can compromise the effectiveness of the anticancer therapy.
It is critical that patients take all medications as prescribed to maximize the effectiveness of the treatment and to minimize toxicity and negative therapeutic outcomes.
Additionally, patients may feel isolated from their healthcare team when taking their anticancer medications at home, compared with going to a cancer treatment center where they have direct interaction with the healthcare staff.
Side effects may also go unnoticed or unreported to the healthcare team, and patients may also be afraid of managing side effects on their own. Many of the side effects of oral medications can be alleviated by supportive care, so it is important for patients to stay connected with their healthcare team, carefully track all potential side effects of their treatment, and report them back to their healthcare team so they can receive the best of care.
Since keeping track of medications can be complicated, particularly when a combination medication regimen is prescribed in which agents may have different dosing schedules, the Focus on Lymphoma Mobile App can help.
Although oral therapy can be conveniently taken by mouth at home, patients may have higher out-of-pocket financial costs compared with patients on intravenous therapy receiving treatment in a doctor's office or healthcare facility. It is important for patients to understand their health insurance coverage and their payment responsibility for oral chemotherapies. Numerous public and private resources, and manufacturers' programs, exist to assist patients with these expenses. LRF offers help in finding financial assistance to those in need.
To learn more, download the Oral Agents in Lymphoma Fact Sheet.