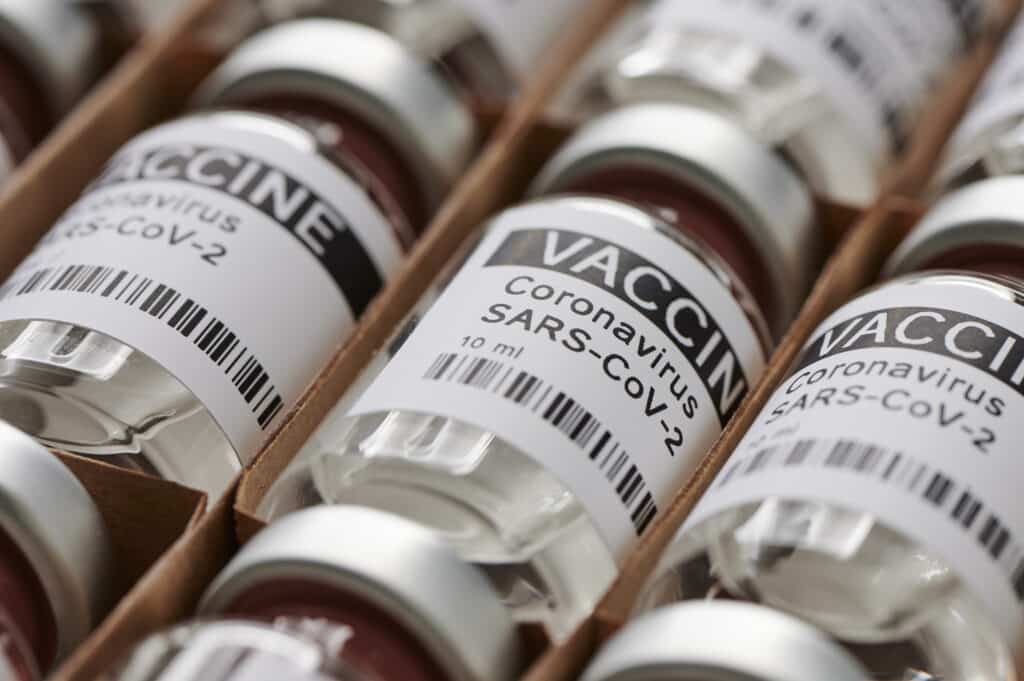 On December 11 and 18, 2020 the U.S. Food and Drug Administration (FDA) issued two COVID-19 vaccines, Pfzier BioNTech and Moderna, with emergency use authorization (EUA). LRF Scientific Advisory Board Member, John Leonard, MD (NewYork-Presbyterian Hospital, Weill Cornell Medicine) answered common questions on how these vaccines work and what lymphoma patients should know before receiving the vaccine.
It has been reported that the COVID-19 vaccine will be distributed first to high-risk groups. Do cancer patients and survivors fall into that group?
The Center for Disease Control (CDC) has an Advisory Committee on Immunization Practices (ACIP) that has made recommendations for a phased rollout of the vaccine. ACIP has prioritized initial supplies of the vaccine be allocated to healthcare personnel and long-term care facility residents. People with certain underlying medical conditions, such as cancer, are among the groups being prioritized for earlier access to the COVID-19 vaccine.  Both before and after you receive the vaccine,  it is important to continue to follow public health guidelines such as those relating to social distancing and wearing masks in many public settings.
How will COVID-19 vaccines be distributed and where should lymphoma patients go to receive one?
COVID-19 vaccines are being distributed and allocated based on a tiered system. Details of this process will in part be determined by processes and prioritizations established by individual states.  Healthcare professionals will likely be in communication when the vaccine becomes available to you, and you can expect that there will be local announcements via news and other media.   Health experts anticipate that these vaccines will become more widely available to the general public in late spring or early summer 2021. Be sure to speak with your oncologist about whether a COVID-19 vaccine might be appropriate  for you and details of availability at your medical center or elsewhere in your community
Should lymphoma patients and survivors receive the COVID-19 vaccine right away or wait?
Most lymphoma patients should receive the COVID-19 vaccine as soon as it is available.  However, given that some lymphoma treatments might affect the efficacy of a vaccine (by impacting the immune system), lymphoma patients and survivors should consult their oncologist or healthcare team prior to receiving the COVID-19 vaccine – particularly if they are in the midst of lymphoma treatment or have had it recently (e.g. within the last 6-12 months). Studies at this point suggest that the COVID-19 vaccines are safe for even those who have underlying health conditions (with the rare exception of some of those with a history of severe allergic reactions).
Should caregivers or loved ones get the COVID-19 vaccine? If so, how soon and will it be safe?
The COVID-19 vaccines will be distributed and allocated based on a tiered system. It is uncertain when the vaccine will be available for individuals such as caregivers, but caregivers and loved ones should begin to develop and discuss a vaccination plan with their care team.
Can the vaccine have negative effects on treatments for lymphoma?
There is no evidence (or expectation) that the vaccine will have any impact on lymphoma therapy, nor should lymphoma patients have an increased risk of side effects.  Of note, COVID-19 vaccines are NOT "live virus" vaccines (which would be a type that in some cases maybe not appropriate for lymphoma patients).
Does medication or treatment for lymphoma affect the efficacy of the vaccine?
Lymphoma and lymphoma therapies can be associated with a diminished immune system.  An immune response to the vaccine, which then also acts against the virus if infection occurs, is the key way vaccines provide protection.  It is expected that certain lymphoma therapies, particularly rituximab (Rituxan) and obinutuzumab (Gazyva), may diminish the immune response to vaccines due to their effects on normal B cells.  This observation has been noted in some patients with other vaccines.  It is possible that chemotherapy and other treatments, including targeted therapies, may also affect immune responses to vaccines.  However, since lymphoma patients (and other patients receiving cancer therapies) were generally not included in clinical trials of COVID-19 vaccines, we do not presently know if or how much lymphoma treatments would affect the efficacy of a vaccine.  It may also be that some patients might have a diminished immune response, but that such may nonetheless provide some meaningful but lower efficacy.  These issues are under active study by researchers and likely depend on the details of the nature and timing of lymphoma therapies relative to vaccination.  In general, it seems appropriate for lymphoma patients to receive COVID-19 vaccinations when available given the possibility of at least some efficacy, but it is a good idea to speak with one's physician/healthcare provider for specific guidance on this issue.
Does the vaccine have side effects?
Thus far, it has been rare to experience any severe side effects as a result of either vaccine. You may experience mild reactions after receiving the vaccine that is in keeping with similar symptoms after receiving a flu shot. The most common side effect is soreness at the injection site. Other reactions may include fatigue, headache, muscle aches, joint aches, and, less commonly, fever. These reactions are temporary and may be a sign that your body is building immunity.  It is important that any individuals with a history of severe allergic reactions alert the medical team prior to receiving a vaccine, as such reactions can occasionally occur with COVID-19 vaccination.  In general, given the risk of exposure to COVID-19 in the community and the potential for severe consequences of infection (including in patients with lymphoma), it is felt that the benefits of vaccination far outweigh the risks.
How effective is the COVID-19 vaccine?
The Pfizer and Moderna vaccines demonstrated 95 percent efficacy in clinical trials. Studies thus far suggest that receiving two doses of the vaccines is important for achieving the immune response to provide lasting protection. Even in those of us who are vaccinated, however, following social distancing protocols, handwashing, and use of masks remains important to maximize safety and avoid the spread of infection.
LRF Helpline
The LRF Helpline is available to help patients and their loved ones better understand their lymphoma diagnosis so that they can feel empowered to make the most informed decisions about their treatment and long-term care.  The Helpline can also connect patients to financial assistance resources, legal, and insurance help.
Feel free to contact the LRF Helpline with any of your lymphoma-related questions, Monday through Friday from 9:30am – 7:30pm Eastern Standard Time (ET). Call (800) 500-9976 or email at helpline@lymphoma.org.