Click here for recordings of 2023 Ed Forum sessions.
Education Programs
The Lymphoma Research Foundation (LRF) hosts more than 50 patient education programs each year to provide members of the lymphoma community with up-to-date information about lymphoma and treatment options.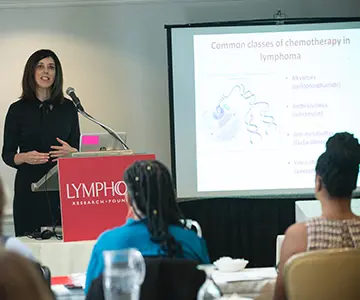 ASK THE DOCTOR ABOUT LYMPHOMA
Ask the Doctor is a national series of two-hour, topic-specific, community-based programs that combine a presentation by a medical doctor with an extensive question and answer session. Virtual Ask the Doctor programs provide access to local lymphoma experts, and you can tune in over the phone or online.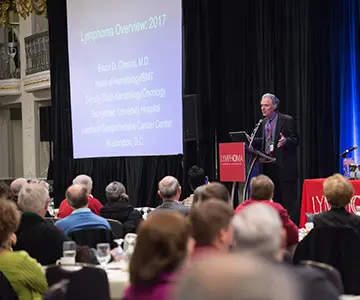 LYMPHOMA WORKSHOPS
Lymphoma Workshops are regional one-day educational programs that provide the latest information about lymphoma, diagnosis current treatment options, and patient support issues.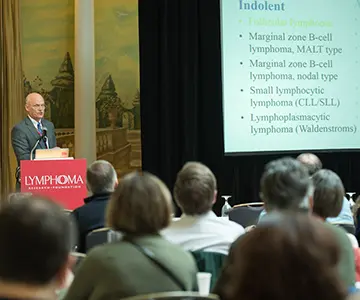 NORTH AMERICAN EDUCATIONAL FORUM ON LYMPHOMA
The North American Educational Forum on Lymphoma is an annual 2 ½ day program providing presentations from expert speaking faculty, disease and treatment specific information, information on clinical trials, the latest advances in lymphoma research, and networking opportunities for members of the lymphoma community. Thank you for attending! – 2023 Educational Forum on Lymphoma – October 6 – 8, 2023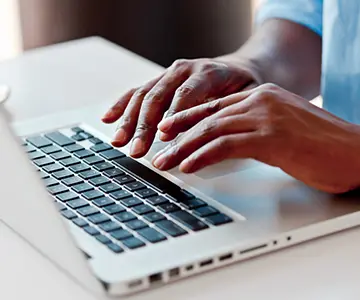 WEBINARS
LRF's free webinars are hour-long interactive programs led by leading lymphoma experts who discuss lymphoma, treatment options, clinical trials and promising innovative research. Webinars can be listened to live on the telephone or via web streaming. Podcasts of the programs can also be accessed following the live program.