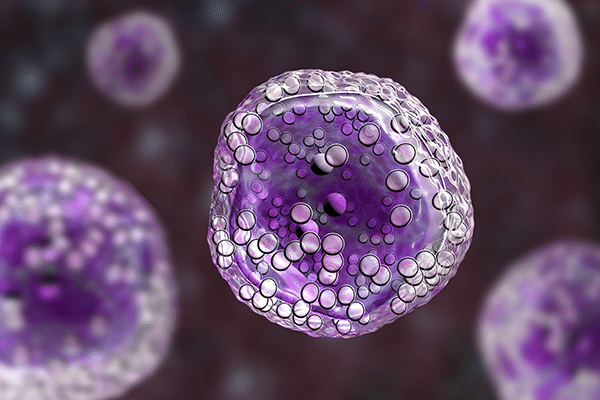 Checkpoint inhibitors are a new class of drugs used by the immune system to determine whether or not to launch an immune response. By activating these checkpoints, cancers evade detection by the immune system as something that is bad for the body. Checkpoint inhibitors block this checkpoint activation, thereby restoring the immune system's ability to launch an attack against the cancer cells and rid them from the body.
LRF grantee Ryan Lynch, MD of the Seattle Cancer Care Alliance discusses the role of checkpoint inhibitors in the treatment of Hodgkin lymphoma and how they have helped offer some patients a regimen with fewer long-term side effects.
What is the role of checkpoint inhibitors for the treatment of Hodgkin lymphoma (HL)?
Checkpoint inhibitors (pembrolizumab or nivolumab) have an important role in the management of relapsed/refractory classical Hodgkin lymphoma (CHL) in patients who are either transplant-ineligible or who have progressed following an autotransplant. Checkpoint inhibitors are unlike any other drug that has been used in CHL before. Prior to their approval, CHL patients in this setting were typically treated with sequences of increasingly less effective chemotherapy drugs before ultimately succumbing to their disease. In contrast, checkpoint inhibitors appear to change the natural history of relapsed/refractory CHL, allowing patients to live longer.
Inside the Hodgkin lymphoma tumor are very rare cancer cells (Reed-Sternberg cells) that are surrounded by non-cancerous immune cells that are struggling to eliminate the known threat. The Reed-Sternberg cells utilize an immune "checkpoint" that allows them to disarm the attacking immune cells, allowing them to survive and grow. Checkpoint inhibitors block this mechanism, allowing for the cancer cells to be recognized by the immune system and destroyed.
These agents do not have the typical treatment-related side effects like fatigue, infection risk, low blood counts, or neuropathy. Autoimmune side effects are uncommon but can include rash, diarrhea, low thyroid hormone, and liver function test abnormalities. While severe and rarely fatal side effects can be seen, the overall safety profile compares quite favorably to the less effective chemotherapy regimens that it replaced.
There are some limitations to checkpoint inhibitor therapy. Unfortunately, checkpoint inhibitors are likely not curative therapy for the vast majority of patients. While these drugs have not been approved long enough to know for certain, most patients will ultimately have disease growth after checkpoint inhibitor therapy. The "palliative" nature of this treatment can be disheartening to a primarily younger age group who may struggle more with the uncertainty of their cancer while trying to do the things that non-cancer patients in their 20s and 30s may be doing. However, patients can live a long time WITH cancer while on checkpoint inhibitor therapy. In the pivotal study of pembrolizumab, about 87% of patients were still alive 3 years after starting treatment.
While checkpoint inhibitors by themselves are very effective in treating CHL, the optimal sequence of treatment remains under investigation. There have been early studies looking at combining checkpoint inhibitors with chemotherapy for untreated CHL patients with favorable preliminary results. There is currently a randomized phase 3 trial comparing this approach with one that combines brentuximab vedotin and chemotherapy. In addition, there are numerous combination studies of other novel checkpoint inhibitors being testing in combination with the approved agent's pembrolizumab or nivolumab.
I expect the coming years to shed more insight into how we can best utilize these effective medications. Patients who are on or considering checkpoint inhibitor therapy for Hodgkin lymphoma should strongly consider a consultation at a referral center that specializes in the treatment of lymphomas. This may open up combination clinical trials as well as experience in strategies that may maximize the treatment benefit of checkpoint inhibitors.

Visit the Hodgkin Lymphoma Learning Center
LRF is committed to providing those impacted by Hodgkin lymphoma (HL) with the resources they need to understand their disease. To ensure that patients and their loved ones make the most informed decisions about their care, the Foundation has developed a series of educational resources specifically for HL. Learn More >
The Hodgkin Lymphoma eUpdate is supported by unrestricted grants from Bristol Myers Squibb and SeaGen, Inc.