This article was contributed by Oncology Dietitian and Clinical Exercise Physiologist, Hannah Manella, MS, RD, LDN, ACSM-CEP, CET (Rush University Cancer Center).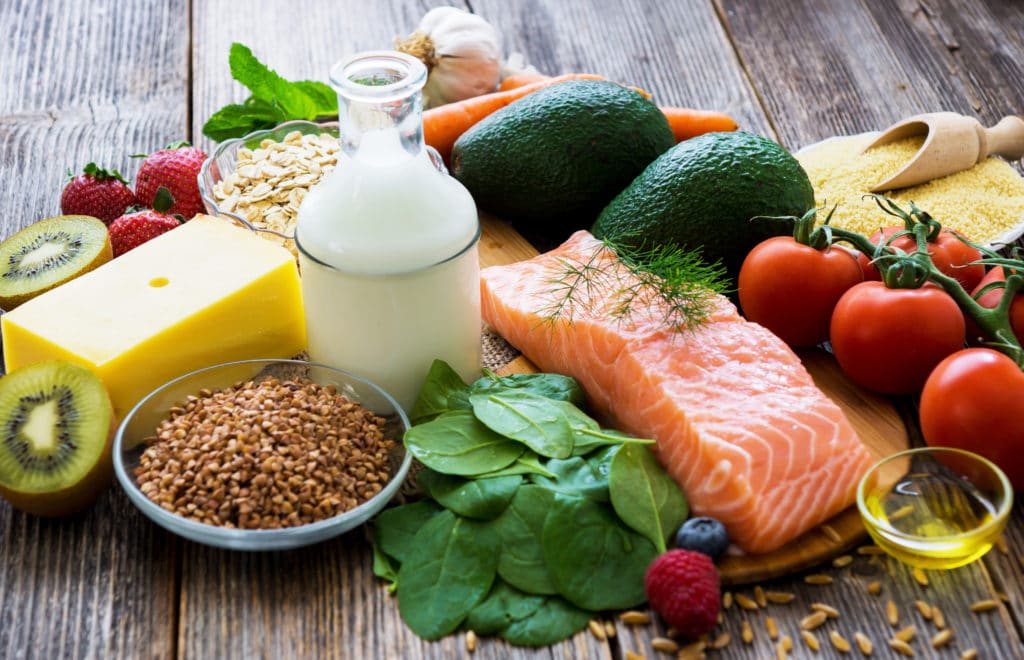 There is no denying the current "Stay at Home" mandate has made it challenging to get our usual grocery items – whether it's related to less frequent store trips or limited food selection at stores. However, this time provides us with the unique opportunity to think outside of the box with our usual meal and snack choices.
Thankfully there are ways to make your meals go further. By getting creative with underutilized frozen and pantry items, you can limit food waste and increase your meal variety. Here are simple tips to keep in mind when planning next week's meals and snacks.
Redefine Your Idea of "Healthy Eating"
We understand healthy eating is strongly associated with decreased risk of cancer and recurrence. However, healthy eating does not mean only eating fresh foods. Many nutritious foods (vegetables, fruits, beans, nuts, seeds) are found in frozen, canned or pre-packaged forms.
Frequent the Freezer Aisle
Believe it or not; healthy foods can come from the freezer.Frozen vegetables and fruits are often picked at peak ripeness and frozen within hours, locking in nutrients and flavor. In some cases, frozen foods have similar amounts (or more) of vitamins and minerals compared to fresh items since fresh foods lose vitamins and minerals during their transit from farm to grocery store.
Frozen fruits and vegetables can be your secret weapon to maximizing vitamins, minerals and antioxidants:
Frozen vegetables can be fantastic additions to meals. Add them to soups, stir fries, casseroles, or pasta dishes.

Look for vegetables without added sauces, since these sauces are often high in saturated fat and salt. Also, frozen items with sauces are more difficult to add into dishes.

Frozen fruits can be added to smoothies, overnight oatmeal, baked goods, and water, or enjoyed as a refreshing snack.

Sub out your usual ice water for frozen fruit infused water – fruit takes place of ice cubes and enhances the flavor.
Try eating them straight out of the freezer for a great snack.
Use Your Pantry
When going to the grocery store isn't realistic, a well-stocked pantry is key to preparing healthy and flavorful meals. Stock your pantry with staple ingredients such as canned beans, canned tomatoes, low sodium chicken broth, tuna or salmon, whole grain pasta and quick-cooking grains like quinoa or bulger.
When purchasing pantry items, follow these simple tips:
Choose low sodium canned goods. If you can't find low sodium, rinse the canned food before preparing.
Prioritize whole or multigrain bread, crackers, pasta, etc. The first ingredient should say "whole grain" or "multigrain". If it says "enriched", the grain has gone through processing which removes many beneficial nutrients.
Look for minimally processed peanut butter or other nut butters. Many commercial nut butters contain added sugar, oil, and salt. Look for products with few ingredients. An ideal peanut butter would simply contain "peanuts".

Tip: Minimally processed peanut butter naturally separates. Store the jar upside down so that the oil settles to the bottom of the jar.

Choose unsweetened dried fruit. During processing, many dried fruits receive an additional sugar coating. Look out for added sugars on the food label or in the ingredient list.
Prioritize canned fruit in natural juices.
Look for BPA free cans. Thankfully most canned goods have BPA free lining nowadays.
Now that you know what to look for at the grocery store, it's important to know how to maximize your meals during the week. Here are 5 simple steps to help make your meals go further.
Double the Recipe.


Making twice as much doesn't usually take twice the time. Make a double batch and store leftovers in individual containers for easy-to-grab lunches.

Remember the four day throw-away rule and discard any leftovers after four days given increased risk for bacterial contamination.

Fill Your Oven.


Roasting salmon? Add a sheet pan of vegetables to roast at the same time. Grilling? Same idea. While food is cooking in the oven, use the downtime to prepare grains (i.e. wild rice, quinoa) on the stovetop.

Remember that cooking times vary for certain foods. Keep a portion of the sheet pan or grill open to stagger food cooking times.

Same Ingredient, Different Recipe.

Save time by preparing ingredients that can be used in more than one meal. Roasted vegetables can serve double duty as a side dish tonight and a salad topping later in the week. A pot of beans can add fiber and protein to tacos, breakfast burritos, grain bowls or even soup.

Chop vegetables early in the week. This allows for quick weeknight meal ingredients and easy-to-grab snack options. Pair your pre-chopped vegetables with hummus or low fat cheese for a satisfying snack.

Combine Leftovers.


Avoid food waste and make the most out of your leftovers. Cut up leftover meat or chicken for salads, pastas or sandwiches. Get creative with your leftover grains (i.e. quinoa, rice) and add them to stuffed peppers, meatballs or grain bowls.

Make Friends with Your Freezer.


Many foods freeze well — think soups, stews, chili, burritos — and make easy meals on busy nights. Store these foods in smaller quantities in air-tight containers. Make sure the foods are cooled thoroughly in the fridge before putting it in the freezer.

Utilize open weekends or weeknights to assemble freezer bags with a protein and vegetables. These are easy to throw into a crockpot, instant pot or on a sheet pan on busy nights.
Click here for healthy recipe ideas using items from your pantry.
Learn More: Watch Hannah's 2019 Educational Forum presentation, Nutrition: Food as Medicine 
About the Author
Hannah Manella is an Oncology Dietitian and Clinical Exercise Physiologist at Rush University Cancer Center in Chicago. Hannah works to improve lifestyle behaviors of individuals during and after cancer treatment. Specifically, she focuses on providing individuals with the tools to make personalized behavior changes for long-term success.