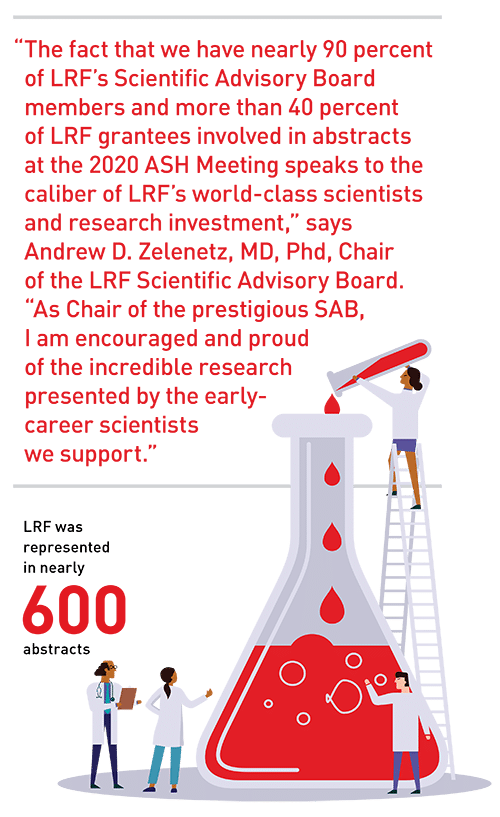 The Lymphoma Research Foundation (LRF) returned to the American Society of Hematology (ASH) Annual Meeting and Exposition with nearly 70 LRF-affiliated scientists, including past and present members of LRF's world-leading Scientific Advisory Board (SAB) and grantees, presenting abstracts at the virtual conference.
Widely regarded as the premier event in malignant and non-malignant hematology, the ASH Meeting, held virtually from December 5-8, 2020, due to the COVID-19 pandemic, provided a critical forum for leading hematologists/ oncologists to present their findings to over 20,000 of their peers. Among the distinguished scientists attending, more than 50 percent of LRF Scholars — participants in LRF's Lymphoma Scientific Mentoring Program — presented abstracts at the 2020 ASH Annual Meeting.
In addition to LRF's representation through presentations, more than 40 percent of LRF grantees (including 90 percent of LRF Scholars) were authors on abstracts selected for the annual meeting. LRF is also represented in nearly 600 abstracts through grantees, Lymphoma Rounds Steering Committee members, Mantle Cell Lymphoma Consortium (MCLC) members, and current and past SAB members.
The 2020 ASH Annual Meeting also featured 10 abstracts and presentations stemming from LRF-funded research and 15 COVID-19–related research authored by LRF-affiliated scientists.
Highlights from ASH 2020:
Odronextamab, a bispecific antibody targeting CD20 and CD3, led to response rates as high as 90 percent in patients with refractory B-cell non-Hodgkin lymphoma (B-NHL), including patients who underwent chimeric antigen receptor (CAR) T cell therapy, according to early trials results.
Axicabtagene ciloleucel (axi-cel), a chimeric antigen receptor (CAR) T cell therapy, appeared an effective frontline (initial) treatment for high-risk large B-cell lymphomas.
A time-limited, frontline combination of ibrutinib (Imbruvica) and venetoclax (Venclexta) shows to mobilize and clear CLL leading to deep responses for patients who achieved undetectable minimal residual disease (MRD) status, according to results from the CAPTIVATE study.
Researchers in BRUIN trial reveals promising data on BTK inhibitor in treatment for CLL, MCL and WM.
Myelodysplastic Syndromes (MDS), also known as "bone marrow failure disorder," are a group of diverse bone marrow disorders in which the bone marrow does not produce enough healthy blood cells.
Allogeneic hematopoietic stem cell transplant (allo-HSCT) may be a successful curative treatment for T-cell patients with poor survival and/or limited treatment options, according to a retrospective study led by LRF grantee Neha Mehta-Shah, MD of the Washington University School of Medicine in St. Louis.

Read more articles and updates in the latest issue of Pulse
Pulse is a publication of the Lymphoma Research Foundation, providing the latest updates on the Foundation and its focus on lymphoma and chronic lymphocytic leukemia (CLL) research, awareness and education. Read more >