Latest News
ASH 2021: Polatuzumab Vedotin Reduces Risk for Disease Progression in Previously Untreated Diffuse Large B-Cell Lymphoma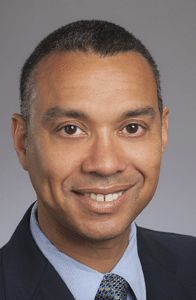 The current standard of care for newly diagnosed diffuse large B-cell lymphoma (DLBCL), R-CHOP (rituximab [Rituxan], cyclophosphamide [Cytoxan], doxorubicin [Adriamycin], vincristine [Oncovin], and prednisone) is not effective for all patients, such that 40 percent of patients remain uncured.
In the phase III POLARIX study, a team of investigators led by LRF Scientific Advisory Board (SAB) member Christopher R. Flowers, MD, MSc of the University of Texas MD Anderson Cancer Center compared the efficacy of standard R-CHOP with that of a modified drug regimen, in which vincristine was replaced with the antibody-drug conjugate polatuzumab vedotin (pola-R-CHP). A total of 879 patients with intermediate- to high-risk diffuse large B-cell lymphoma were included in the trial.
The investigators observed that after 28.2 months of follow up, patients who received pola-R-CHP had a 27 percent lower risk for disease progression, relapse, or death compared with those who received standard R-CHOP. The two-year progression-free survival rates were 76.7 percent among those treated with pola-R-CHP and 70.2 percent among R-CHOP-treated patients. Overall survival rates between groups were not significantly different.
While complete response rates were similar between groups, fewer patients in the pola-R-CHP-treated group received subsequent anti-lymphoma therapy (23 percent) than in the R-CHOP-treated group (30 percent), investigators noted that disease-free survival rates suggested patients treated with pola-R-CHP experienced more durable responses than those treated with R-CHOP.
The results of the POLARIX trial were published in the New England Journal of Medicine on December 14, 2021.
This study also included contributions from LRF grantee and SAB member Jonathan W. Freidberg, MD of Wilmot Cancer Institute, University of Rochester; LRF SAB member Laurie Sehn, MD of BC Cancer Centre for Lymphoid Cancer; and LRF grantee Neha Mehta-Shah, MD of Washington University in St. Louis.
Read more highlights from the 2021 American Society of Hematology Annual Meeting in Pulse