Latest News
Ask the Doctor: I am worried about my FL transforming while on watch and wait. With watch and wait, is there any increased risk of transformation and does it impact how effective treatment could be?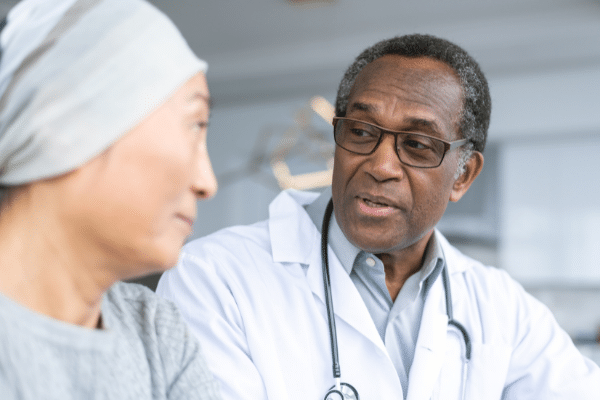 Indolent lymphomas, such as follicular lymphoma (FL), are generally not curable with standard therapy, but they are treatable. These are usually considered chronic diseases that may be successfully managed and may never become life-threatening in some patients. Patients with indolent lymphomas that are not causing symptoms or problems will often be followed with active surveillance also known as watchful waiting. Some patients with FL have shown concern regarding their lymphoma transforming while under active surveillance.
Transformed lymphoma occurs when an indolent lymphoma turns into a more aggressive one—for example when follicular lymphoma transforms into diffuse large B-cell lymphoma (DLBCL). A transformation occurs when genetic changes in the indolent lymphoma cells cause them to begin growing faster and behaving more aggressively. Boyu Hu, MD (University of Utah Health), discusses the increased risk of transformation and its impact on treatment effectiveness.
I am worried about my FL transforming while on watch and wait. With watch and wait, is there any increased risk of transformation and does it impact how effective treatment could be?
About 15-20% of patients may have histologic transformation (HT) to a more aggressive B-cell lymphoma that would require immediate treatment. Currently, there are conflicting data regarding whether early treatment of asymptomatic FL may impact the chances of HT. The risk and outcomes of HT have been investigated in both retrospective and prospective studies. In retrospective studies, investigators look back through the years and collect patients from a database or collaborate with multiple institutions to answer a specific question.
Some retrospective studies investigating the risk of HT have shown no benefit of upfront treatment to prevent HT in asymptomatic FL patients, while others have shown benefit. These mixed results likely reflect the intrinsic nature of retrospective studies in that patients included in these studies are not captured in a uniform, homogeneous way so that patient heterogeneity between studies introduces bias and varying results. In fact, multiple prospective FL studies that can compare FL patients in a more uniform manner have not shown a reduction of the incidence of HT with early treatment.
Even with HT, patients have similar outcomes to newly diagnosed aggressive B cell lymphoma. In one study, patients with HT who were treated with RCHOP chemotherapy had a 5-year overall survival of 73%, which mirrored outcomes of RCHOP-treated patients with aggressive B cell lymphoma. In fact, patients who developed HT after treatment with RCHOP had inferior overall survival as compared to RCHOP-naïve patients. Notably, FL patients diagnosed after the approval of rituximab in 1997 and the incorporation of rituximab to traditional chemotherapy regimens (i.e. RCHOP) have drastically improved outcomes for FL patients even with HT. In summary, current treatments for HT are highly effective and the incorporation of rituximab into treatment strategies has mitigated prior reported poor outcomes of HT patients.
In conclusion, a minority of FL patients have a transformation to more aggressive lymphoma. When studied in a prospective manner, immediate treatment for asymptomatic FL patients does not reduce the risk of HT. And lastly, outcomes of FL patients with HT are similar to other aggressive lymphoma diseases after the incorporation of rituximab immunotherapy into our modern treatment strategies.
Ask the Doctor About Lymphoma
Ask the Doctor is a national series of two-hour, topic-specific, community-based programs that combine a presentation by a medical doctor with an extensive question and answer session.