Latest News
Trusting the Process and Celebrating Triumphs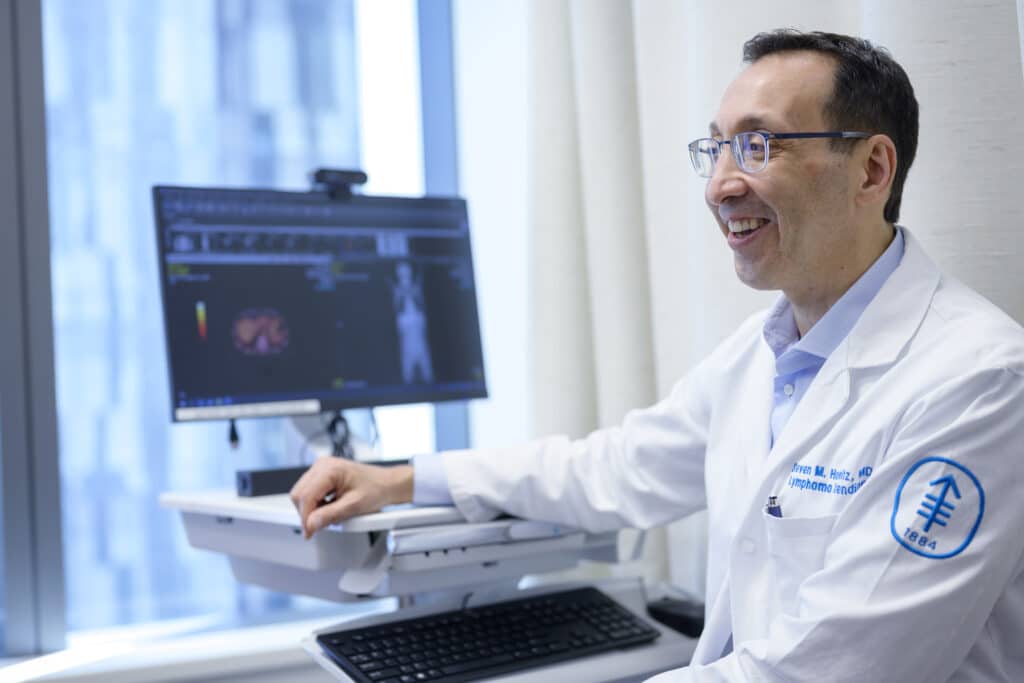 Growing up in Cleveland, Ohio, Steven M. Horwitz, MD, a Medical Oncologist at Memorial Sloan Kettering Cancer Center, member of LRF's Scientific Advisory Board, and co-chair of LRF's Lymphoma Scientific Research Mentoring Program (LSRMP), is familiar with long periods of immense collective effort with occasional triumphs that make it all worth it.
A lifetime Cleveland sports fan, he's well aware that when the Cleveland Cavaliers won the NBA Championship in 2016, it marked Cleveland's first national sports title since 1964, when the Cleveland Browns won their last NFL title. The lean years didn't dim his enthusiasm for Cleveland sports, however. If anything, it strengthened his commitment. For Dr. Horwitz, being a longtime Cleveland sports fan was excellent training for being a successful medical oncologist.
"The first nearly 50 years of my life were spent being a Cleveland sports fan without experiencing the ultimate success of winning a championship, but when you are deeply committed to your teams, you come to understand the beauty of the effort, and the struggle, and the value of the process — even if the result isn't what you hoped it would be," says Dr. Horwitz. "In oncology, you too often start with not great odds; you have some wins, and too many losses, but you keep coming back to this idea that you're always working toward something better — there can be satisfaction in the trying."
That commitment to the process has been consistent throughout Dr. Horwitz's career and is reflected in his approach to medicine. His father was a psychoanalyst, and his mother was a teacher who directed an analytic preschool. Both encouraged him to follow his passion, so the choice to pursue medicine was not a particularly difficult one. After graduating from the University of Michigan as an English Literature major, he attended medical school at Case Western Reserve University, where he studied a core medical curriculum combined with a patient-centric, humanistic approach.
"For me, the possibility of going into medicine was always on the table, but my passion and drive for it really took root as I went through my residency at the University of Rochester, followed by a fellowship at Stanford," explains Dr. Horwitz. "I witnessed that in oncology, doctor, patient, and the patients' families were all aligned toward the same goal. I felt that lymphoma was a serious challenge I could work on for a lifetime and hopefully make a meaningful difference, which made it feel worthwhile."
Seeing an Unmet Need
Coincidentally, Dr. Horwitz began his fellowship at Stanford in 1997, within months of when rituximab was first approved by the FDA for certain relapsed or refractory lymphomas. As a result, researchers were paying a great deal of attention to B-cell lymphoma research at the time, while other rare forms of lymphomas, including T-cell lymphomas which Dr. Horwitz would later go on to specialize in, were overlooked and left behind.
"I saw a group of patients in need that were understudied and poorly understood, and who had no new therapy options being developed," explains Dr. Horwitz. "I started going to the skin lymphoma clinic at Stanford, and it felt like this was an area where I could add value and develop expertise."
Upon finishing his fellowship, Dr. Horwitz moved to New York, where he now lives with his wife and two children, to focus on the study and treatment of T-cell lymphomas at Memorial Sloan Kettering Cancer Center (MSK). There, he has developed a large clinical practice and clinical trial program dedicated to people with T-cell lymphomas. Through this program, he has led or been instrumental in the development of the current FDA-approved therapies and many advances that have greatly expanded the treatment options for patients.
Tackling Complex T-cell Lymphomas
In general, T-cell lymphomas are known for their heterogeneity, clinical complexity, and comparative rarity. Tending to show up disproportionately outside of lymph nodes, many appear in the skin, gastrointestinal tract, and other parts of the body. Skin or cutaneous lymphomas can add an additional component of anxiety and distress as patients see their lymphoma every day when getting dressed or looking in the mirror.
When Dr. Horwitz first came to Memorial Sloan Kettering in 2001, there were no dedicated studies underway for patients with T-cell lymphomas, and they were often excluded from trials for other non-Hodgkin lymphomas. He saw a clear opportunity to move the study and treatment of T-cell lymphomas forward by changing this.
"There's a big unmet need when it comes to T-cell lymphomas, which represent approximately 7-10 percent of lymphomas but remain understudied," says Dr. Horwitz. "While the goals, treatment strategies, and dynamics of various T-cell lymphomas may differ, our clinical and research teams believe that optimal care has to include the ready availability of new therapies — of which there are not enough — because the current standard therapies are inadequate for too many people."
While many T-cell lymphomas had a worse prognosis than most other types of non-Hodgkin and Hodgkin lymphomas, when Dr. Horwitz was first starting out in the field, it was unclear if that was because they were truly worse or more resistant diseases, or because doctors were not using the optimal therapies to treat them. He quickly realized that it was a bit of both.
"They weren't being specifically studied, but there are also some higher rates of chemoresistance and relapse with T-cell lymphomas," says Dr. Horwitz. "Over time, we've expanded the breadth of therapies to include new classes of drugs, and a big part of our program today is focused on the development of novel therapies, gaining a greater biologic understanding of T-cell lymphoma, and the development of safer, less-toxic treatment options."
Dr. Horwitz notes that he's seen a significant increase in interest in T-cell lymphoma across the board, compared to when he first entered the field
"I'm a clinical investigator, but we now have more laboratory partners, more models and novel therapies in development, and more smart, dedicated people working on T-cell lymphoma than ever before, which is gratifying to see," Dr. Horwitz says. "Today, dedicating your career to the study of T-cell lymphoma is a genuine or more resistant career path for someone looking to make a difference."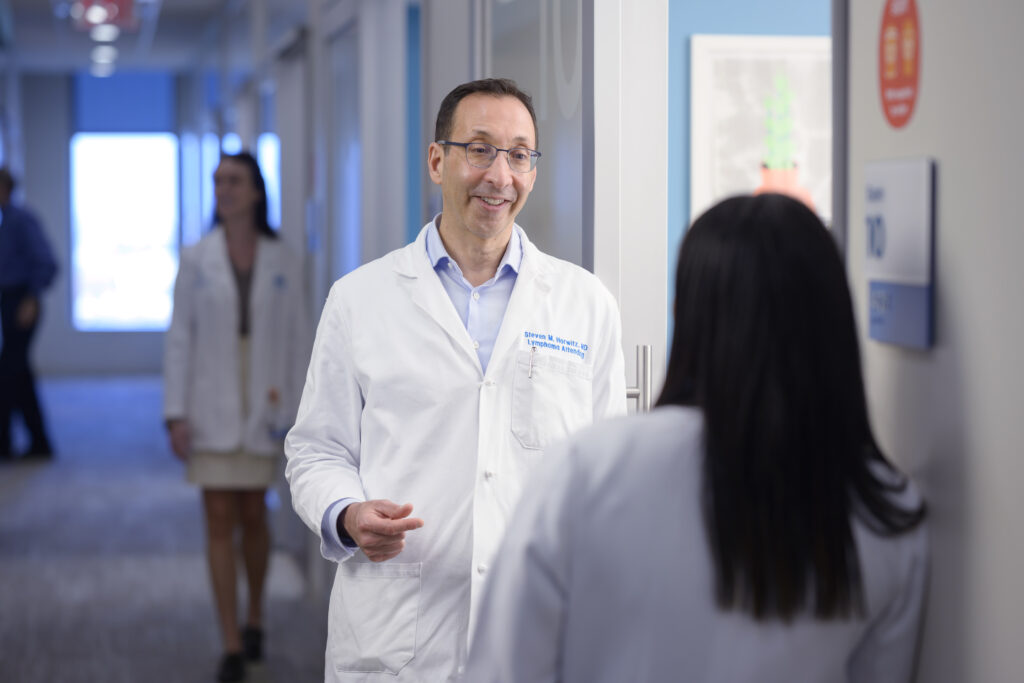 Supporting the Future of Lymphoma Research
Dr. Horwitz is encouraged by the increased interest in T-cell lymphomas and the study of lymphoma as a whole. To encourage a continued focus and enthusiasm for this field, he serves as a member of LRF's Scientific Advisory Board (SAB), which he's been a member of since 2017. On the SAB, he joins 44 other world-renowned lymphoma experts, who collectively identify the most innovative and promising lymphoma research projects for support.
"I have long believed that we can make a difference with T-cell lymphoma by being focused and persistent, and I think that's where organizations like LRF are so important because they incentivize the research community to focus on lymphoma, including what are considered to be 'rare' subtypes," says Dr. Horwitz. "Science and medicine can be very competitive, but beyond the generous grants, which support potentially life-changing research efforts, the LRF SAB has created a supportive community where people genuinely like each other, share insights, and identify ways to collaborate."
In addition to the SAB, Dr. Horwitz currently serves as co-chair of LRF's Lymphoma Scientific Research Mentoring Program (LSRMP), a first-of-its-kind education and mentoring program for junior scientists who wish to focus on lymphoma clinical and laboratory/translational research. A program that Dr. Horwitz believes is truly the future of lymphoma research.
"We find talented people just getting started in their medical or research careers with an interest in lymphoma, and we bring them into the lymphoma research community, helping them feel supported," Dr. Horwitz says. "That dedicated focus on bringing new people into the field is central to our future success and discovering the next big lymphoma breakthroughs."
In recognition of Dr. Horwitz's outstanding contributions to help advance the understanding of lymphoma and his commitment to the lymphoma community, the LRF is awarding him the 2022 Distinguished Leadership Award at this year's Annual Gala on September 29th. An award he is honored and humbled to receive.
"We have to stay focused on what matters because our research changes lives," says Dr. Horwitz. "During the COVID pandemic, many labs closed their doors and some clinical research programs were forced to slow down, but LRF continued hosting programs via Zoom, issuing grants, and bringing people together to collaborate on science and lymphoma. That's essential and just one of many reasons why I'm honored to work so closely with the organization."
Read More Articles from Pulse
Pulse is a publication of the Lymphoma Research Foundation, providing the latest updates on the Foundation and its focus on lymphoma and chronic lymphocytic leukemia (CLL) research, awareness, and education