Latest News
Where Are They Now? Carla Casulo, MD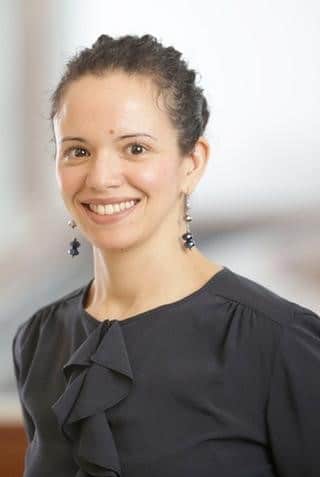 Dr. Carla Casulo is a medical oncologist at the University of Rochester Medical Center.
When did you become interested in the study of lymphoma?
I became interested in hematology at an early age, watching my mother at work. She was a bone marrow and hematology technician at a New York City hospital for
over 45 years. After school, I would go to the lab and watch blood cells under the microscope, and since then, knew that I wanted to learn more about blood. I was exposed to lymphoma in more depth as a hematology/oncology fellow at Memorial Sloan Kettering. I realized then that lymphoma is a vast field of many diseases with unique behavior and treatment that affects patients along the entire
age spectrum. I loved the diversity of disease biology and the rapid development of new treatments. Over time, I have had wonderful mentors that have helped guide my career towards opportunities to grow my expertise and interest.
At what point in your career did you receive funding from LRF? What kind of grant did you receive?
I received a Lymphoma Research Foundation (LRF) Lymphoma Scientific Research Mentoring Program (LSRMP) award when I was a junior faculty [member]— a few years into my faculty appointment.
What scientific project were you working on as part of your LRF research grant?
My project focused on finding novel treatments for patients with early-relapsing follicular lymphoma (FL), which is an ongoing focus of my research.
How has the treatment landscape for lymphoma/ chronic lymphocytic leukemia (CLL) changed since you first started conducting your research?
The treatment landscape has changed towards the better, with numerous effective and promising treatments being studied and approved for patients with all types of lymphoma. As a lymphoma doctor, this is one of the most gratifying things to witness and share with patients. Some of the treatments considered standard now were only being studied in clinical trials a few years ago. These include oral targeted drugs and anti-CD19 CAR T cell therapy which are changing
practice and standards of care.
How has your participation in the LSRMP impacted the work you are doing today?
I am very grateful to the LRF for my acceptance into the program at an important point in my career where that type of support was very pivotal. While the exact project that I proposed then was not executed exactly in the way it was originally designed, the feedback and advice I received helped frame my thinking about future projects that have led to much of the work I am currently doing in follicular lymphoma. The experience also introduced me to several leaders in the field, which led to many opportunities that evolved for me in the next few years.
Was the support and grant funding you received from LRF vital to advancing/dedicating your career to studying lymphoma?
It definitely was vital to advancing my career. The LRF is known to be a highly patient-centric organization that supports research and funding opportunities to help advance the field forward. As such, receiving funding from the LRF is a form of recognition the work you do is of value, has impact, and the potential to improve patient care. LRF funding helps to promote further research funding, career opportunities, and collaborations, which are important in career development, particularly early on. Additionally, support from the LRF helps to establish your expertise in the field of lymphoma.
There has been much progress made in predicting outcomes for FL. Can you describe your work in FL? What characteristics have you identified that may distinguish favorable vs. unfavorable outcomes in FL?
My work in follicular lymphoma started with the identification of a high-risk group of patients with poor outcomes if they have early disease recurrence. From this work, many other studies have followed that corroborated these findings and led to a worldwide effort to better understand how this happens. We have identified that some clinical factors such as male gender, poor health (known as performance status), and a Follicular Lymphoma International Prognostic Index (FLIPI) score are more associated with early disease progression. Many biologic markers, such as changes in gene expression or certain mutations, have also been associated with favorable or unfavorable outcomes.
How has your involvement with LRF evolved since receiving an early career grant?
Since then, I have been asked to participate as a speaker at the LRF several times. I have given patient talks on several topics, which is a wonderful opportunity to share my expertise and work to help patients in the community. Additionally, in the last year I have been invited to participate as a faculty member/mentor in the LSRMP. Having been a recipient of this award a few years ago, this was a humbling and exciting experience that permitted me to share my journey thus far as a lymphoma researcher, and help mentor junior faculty and fellows.
You are involved with both LRF's LSRMP as a member of the faculty now, as well as Women in Lymphoma— how are you working with both organizations to empower female lymphoma scientists?
One of my strong passions is advancement of women in science. I believe that the LRF is a wonderful platform to help support women lymphoma researchers by cultivating a community of supportive and successful women scientists
that can be a resource for career advancement, research, and collaboration. The LRF is also a terrific opportunity to support peer mentorship among women lymphoma scientists. The Women in Lymphoma organization is a global organization committed to supporting and advocating for greater leadership of women in lymphoma, globally. We have over 400 members worldwide that share our mission. I am honored to be chair-elect of the organization for the coming year. Under the outstanding leadership of Drs. Judith Trotman and Ann LaCasce, and many others, the Women in Lymphoma organization facilitates the education of women in lymphoma through a dedicated webinar lecture series run by our internationally renowned members. We also advocate for and promote equal representation at conferences, on panels, in leadership committees, and in research, and we promote opportunities for women in lymphoma, globally.
Why is LRF's mission and focus on lymphoma-specific research and research programming important? Put another way: how would the lymphoma community be impacted if there was no LRF?
The LRF is the only organization that I know of with this level of deep dedication to lymphoma as a disease. At every
level, the LRF has impacted our field: in patient-centered disease awareness, funding research to help find cures,
faculty development and collaboration opportunities, and an unparalleled devotion to increasing the pipeline
of trainees into lymphoma research. There is no other organization like it!
What research or projects are you currently pursuing that you would like to share with our readers?
I continue to be strongly involved in follicular lymphoma research. I am very excited about recent work we just published showing how patients with follicular lymphoma respond to treatment after several prior lines of therapy. This work included several hundred patients treated with newer drugs in a contemporary setting. This research is very promising because it provides a better understanding of treatment patterns and outcomes for patients multiply treated for follicular lymphoma. We believe this might provide new benchmarks for future clinical trials in relapsed follicular lymphoma.
What are you most excited about in the field of lymphoma research today Why?
My next goal is to address the treatment of patients with follicular lymphoma based on risk so that we can direct stronger therapies to patients who need it the most, and consider gentler or shorter treatments for patients with a good prognosis. I am hopeful that we will soon be able to use biomarkers, such as circulating tumor DNA or other mutations at the time of a patient's diagnosis, that can help guide these decisions in a more precise way.
Read More Articles from Pulse
Pulse is a publication of the Lymphoma Research Foundation, providing the latest updates on the Foundation and its focus on lymphoma and chronic lymphocytic leukemia (CLL) research, awareness, and education