Researcher Spotlight: Daniel Ermann, MD
THE UNIVERSITY OF UTAH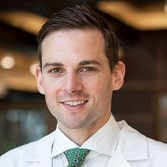 Patients with chronic lymphocytic leukemia (CLL) are at increased risk for infections due to the immune dysfunction associated with the disease. Bacterial pneumonia is a particular concern, and while vaccination with a broad spectrum 20-valent pneumococcal conjugate vaccine (PCV20) is recommended to prevent illness, this vaccine hasn't been specifically studied in people with CLL. Through his LRF research project, Dr. Ermann aims to determine whether a 2-dose series of the PCV20 vaccine used in conjunction with another pneumonia vaccine can help reduce the burden of infectious pneumonia in these high-risk patients. "Our research hopes to provide the best guidance for patients about how to prevent pneumonia and provide optimal guidance for physicians on how to prevent pneumonia and its complications," he explains.
Dr. Ermann was inspired to a career in lymphoma research from an early age when his father was diagnosed with lymphoma. "It was his illness, and my early experience of it, that catalyzed my inspiration and passion to become a lymphoma physician with the goal of improving outcomes of future lymphoma patients for generations to come," he says. To this end, he earned his medical degree from St. Georges University in Grenada, and is currently a Hematology and Oncology Fellow at the University of Utah Huntsman Cancer Institute in Salt Lake City, UT.
Leveraging his experience from the Lymphoma Scientific Research Mentoring Program, Dr. Ermann hopes to establish himself as a dedicated academic lymphoma researcher, with the goal of investigating novel combinations of treatments to help improve outcomes for CLL patients in need. "Quality of life and length of life are so important in patients with cancer," he says. "That's why we pursue our CLL related research to reduce infections, which are the leading cause of morbidity and death for patients with CLL." Dr. Ermann hopes that his work on this study, as well as his future research, will help to prolong life and reduce complications for people living with CLL and lymphoma.