Researcher Spotlight: Edward Dominguez, PhD
BECKMAN RESEARCH INSTITUTE OF CITY OF HOPE
HEALTH EQUITY INITIATIVE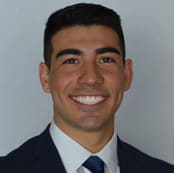 Cyclin-dependent kinases, including CDK9, are responsible for regulation of a variety of cellular processes that contribute to the growth and expansion of cancer cells. Using small-molecule inhibitors of CDK9, Dr. Dominguez's LRF research project aims to understand how these molecules contribute to cancer development and progression in lymphomas. His research focuses primarily on the use of these agents in aggressive subtypes of non-Hodgkin's lymphoma, and he one day hopes that his research will provide insights into novel uses of CDK9 inhibitors in the clinic.
Dr. Dominguez earned his PhD at the University of California, Riverside, studying environmental toxicology. He transitioned to lymphoma research during his postdoctoral fellowship, which he is currently completing at City of Hope in Duarte, CA. "Although lymphoma research is new to me, cancer research is something I am very passionate about," he says. "I have had several family members and friends suffer from cancer, and I have always cherished the idea of helping work toward one day finding a cure." Dr. Dominguez hopes to leverage his doctoral and postdoctoral skills to build a career studying drug development in oncology and is currently focused on understanding mechanisms of drug resistance in lymphoma.
As Dr. Dominguez looks forward to his future as a lymphoma researcher, he acknowledges the challenges he has overcome as a first-generation Latino in the STEM field. "Coming from a low-income minority background, a career in science always seemed out of grasp," he says. He notes that his early research experiences helped build his self-confidence and ignite his passion for a research career in drug discovery, and he looks forward to using his skills to develop new treatment options for lymphoma patients.