Researcher Spotlight: Elise Chong, MD
UNIVERSITY OF PENNSYLVANIA, PERELMAN SCHOOL OF MEDICINE
Health Equity Initiative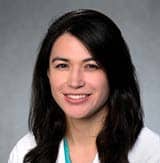 Chimeric antigen receptor (CAR) T-cell therapy has become a life-saving treatment option for many people with large B-cell lymphoma. Some patients do not respond to treatment, though, and others have shortlived responses to CAR T-cell therapy. In these cases, the prognosis is typically poor. With the support of the LRF Career Development Award, Dr. Chong is investigating how the addition of a bispecific antibody known as mosunetuzumab after CAR T-cell therapy can improve responses and prevent progression in patients with large B-cell lymphoma. "[We] hope that this nonchemotherapeutic immunotherapy approach to treating lymphoma will result in more cures for large B-cell lymphomas," she says.
Dr. Chong's interest in lymphoma research began when her mother was diagnosed with non-Hodgkin lymphoma when she was a teenager. "When I was an undergraduate at Princeton University, she initially nudged me to spend a summer with her oncology team," she says. "One summer evolved into multiple summers as a research assistant and eventually full-time clinical research after college as I discovered a passion for this field." Dr. Chong is now an assistant professor of medicine at the Perelman School of Medicine at the University of Pennsylvania, where she first earned her medical degree. She is motivated not only by her mother's battle with lymphoma, but also by the patients she sees every day in the clinic. "Through these patients, I also see firsthand the instances in which we are reaching the current limits of our medical treatment," she adds. "This fuels my commitment to push research forward."
With the support of the LRF Career Development Award, Dr. Chong hopes to dedicate herself and her time to clinical research. She hopes that her work will lead to the development of safer, more effective non-chemotherapeutic approaches for the treatment of B-cell lymphomas that integrate advancements in immunotherapy and personalized medicine. "I am optimistic for the future of lymphoma due to the rapid pace at which research is advancing," she says. "These improvements in [our] understanding of lymphoma and chronic lymphocytic leukemia have been the catalysts for both drug development and more personalized, nonchemotherapeutic approaches."
Dr. Chong also received a Postdoctoral Fellowship Grant in 2019 and is the second person, and first woman, to receive both a Career Development Award and a Fellowship from LRF.