Researcher Spotlight
Researcher Spotlight: Hans-Guido Wendel, MD
memorial sloan kettering cancer center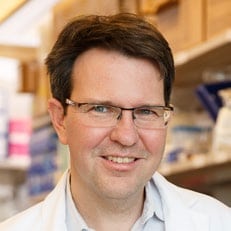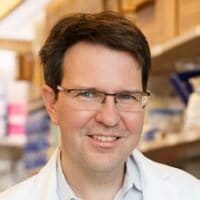 Mutations in epigenetic regulators of gene expression are common in follicular lymphoma (FL), which result in altered expression of hundreds of genes. Through
collaborative efforts with clinical and research leaders at Memorial Sloan Kettering Cancer Center, Dr. Wendel's LRF research aims to characterize the changes in gene expression that contribute to the formation of FL. By understanding these changes, Dr. Wendel hopes to identify therapeutic targets that can expand the treatment landscape against FL.
Dr. Wendel is a faculty member and professor at Memorial Sloan Kettering Cancer Center. He completed his medical training at the University of Aachen in Germany before completing his postdoctoral research at Cold Spring Harbor Laboratory in Cold Spring Harbor, N.Y. His research focuses on leveraging mutational data in lymphoma to identify novel treatment targets. "The mutation data provide us with the 'construction blueprint' of lymphoma cells and they also tell us about vulnerabilities in lymphoma cells that we can target," he explains.
Research from Dr. Wendel's lab has already led to the development of novel lymphoma therapies, including small molecule inhibitors, bispecific antibodies, and chimeric antigen receptor (CAR) T cell therapies, that are currently in clinical trials.
Dr. Wendel is inspired by the commitment of the members of his research group and the work of basic scientists around the world. "As scientists, we don't work in isolation, and much of our work is inspired by fundamental research that precedes our own work," he says. "I am especially committed to and benefitting from training graduate students and postdoctoral fellows for successful academic and life science careers."