Researcher Spotlight: Paul Barr, MD
Wilmot Cancer Institute at the University of Rochester Medical Center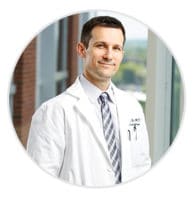 Dr. Barr is Assistant Professor of Medicine and Director of the Clinical Trials Office for the Wilmot Cancer Institute at the University of Rochester Medical Center. In 2013, he was awarded a Lymphoma Research Foundation (LRF) Clinical Investigator Career Development Award (CDA) for a project testing a chemotherapy free combination therapy in non-Hodgkin Lymphoma. Focusing on agents targeting B-cell receptor signaling, including a PI3K inhibitor, idelalisib (Zydelig) and a SYK inhibitor, entospletinib, Dr. Barr and his colleagues found that the combination demonstrated brisk responses but unfortunately high toxicity levels. Though not the expected result, the project still contributed useful information to lymphoma research, as Dr. Barr was able to perform correlative studies indicating that cytokine levels in a patient's blood could be a useful marker of the most common toxicity. "Given the interest in combining BCR signaling inhibitors, this work is of significant importance and will be used to guide future combination studies," Dr. Barr notes. The results of his CDA project were presented at the International Conference of Malignant Lymphoma in Lugano Switzerland in June 2015.
Seeking to correct the toxicity issue, subsequent studies demonstrated a combination of PI3K and JAK1 inhibitors to be a more effective and better tolerated combination. "With the promising agents targeting B-cell receptor signaling, we are seeing prolonged disease control in some patients, similar to a chronic disease rather than a terminal illness," Dr. Barr says. "For patients with more aggressive lymphomas, we would like to build upon these promising responses… moving the field closer to achieving cures for an increasing number of patients." Dr. Barr mentions the developments of these therapies as one of the key improvements he has seen since beginning his career as a lymphoma researcher, a development he's helped contribute to through his LRF CDA and other research. "Many of the patients we treated on the clinical trials [evaluating PI3K and BTK inhibitors] had no other therapeutic options. To see these patients endure little toxicity, respond, and ultimately return to their previous functional capacity solidified the importance of clinical trials in my mind."
Dr. Barr could be described as a second generation LRF CDA recipient; his mentor, Dr. Jonathan W. Friedberg, was himself an LRF CDA recipient in the early stages of his career. "Through his mentorship, I was able to successfully compete for the LRF grant, establish productive collaborations, and conduct clinical trials at a higher level," Dr. Barr notes. He credits the protected time funded by his LRF grant with allowing him to develop his skills as a translational investigator. "The support and recognition I received [from LRF] facilitated high-level clinical investigations leading to data that was worthy of presentation at national and international meetings and also allowed for timely publication," he says. "As you might expect, this fostered additional collaborations and new research directions.
Dr. Barr credits his collaborators, including mentors, co-investigators, clinical research staff, and nursing team, for helping drive his commitment to research. "Every aspect of research and patient care becomes that much more enjoyable when you are surrounded by smart and talented people." He advises new patients to make sure their own health care provider is someone they can trust and communicate with, and to ask about clinical trials. "A trial may not always be the optimal choice but every patient deserves to hear about these important options," he adds. Above all, Dr. Barr advises patients to stay hopeful. "Outcomes for our lymphoma patients continue to improve and treatment advances are occurring rapidly."