Researcher Spotlight: Roni Shouval, MD, PhD
MEMORIAL SLOAN KETTERING CANCER CENTER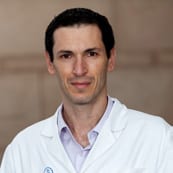 Chimeric antigen receptor (CAR) T-cell therapies have been a transformative advancement in the treatment of large B-cell lymphomas. However, many patients still experience relapse after CAR T-cell therapy. Using a combination of clinical, molecular, and imaging information, Dr. Shouval's research aims to uncover the underlying causes of relapse or progression after CAR T-cell therapies in patients with lymphoma and develop algorithms that can help predict responses to treatment. "Our findings will help us identify targets for future treatments and enhance the design of new CAR T strategies," he says.
After completing his medical degree and training at the Technion-Israel Institute of Technology in Haifa Israel, Dr. Shouval went on to earn a PhD in machine learning from Bar-Ilan University in Ramat Gan, Israel. He completed fellowships at the Sheba Medical Center in Israel and at Memorial Sloan Kettering Cancer Center (MSKCC) in New York, NY, and he is now a physician scientist at MSKCC focused on cellular therapy research. "Lymphoma research has always been a field of great interest to me due to the impact it has on the lives of so many people and the fascinating disease biology," he says. "The integration of various forms of data and innovative machine learning approaches to gain a more in-depth understanding of disease recurrence and inform the design of better treatments is a truly exciting prospect."
Dr. Shouval hopes to leverage the support of the LRF Career Development Award to support his transition to an independent research role. He plans to focus his research on using computational techniques to drive the development of new and innovate therapies for patients with lymphoma. "My goal is to maintain a strong connection to patient care, bringing the latest advancements in research directly to those who stand to benefit from them," he says.