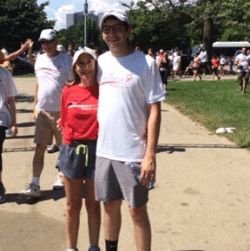 In July of 2012, I noticed a lump on the left side of my neck. I had been experiencing a slight but chronic sinus infection, yet I had otherwise been healthy. Although I am a physician myself, I decided to consult with my doctor.  In his medical opinion, he thought it could be an enlarged lymph node due to the chronic sinus infection.  I was prescribed an antibiotic and a steroid pack which temporarily resolved the issue. A few weeks later, the lump returned.  It was larger.  Of greater concern, this time, the medication had no therapeutic effect.
Given my medical background, I was generally aware of the signs and symptoms of cancer. When the enlarged lymph node did not respond to medication the second time, I knew something was wrong even though I had not experienced any night sweats or other tell-tale symptoms of cancer.  I had recently lost some weight, but tongue-in-cheek, stereotypically, I welcomed the mid-summer slimmer physique figure and attributed the weight loss to lifestyle choices as well as everything else that was going on in my life during a busy summer. Thankfully, my doctor recommended a biopsy.  While discussing the size and abnormal color of the lymph node, we decided that removing the lymph should be performed instead of the biopsy. The pathology report returned a definitive diagnosis of Large B-cell non-Hodgkin Lymphoma.
I was devastated by the diagnosis, a realization almost too surreal to process.  In a very real way, however, I was relieved my diagnosis was a Stage I, DLBCL Lymphoma and it only presented on the left side of my neck and above the diaphragm and not both sides.  Still, the very fabric of my entire life and world was now uncertain.  I knew I needed to commence treatment and remain positive even though I felt as if my life was imploding around me.  To add a devastating insult to injury, my husband had recently asked me for a divorce. Besides the diagnosis and life-threatening condition, I suddenly had five significant simultaneous situations going on at once: the specter of the divorce; my daughter was just starting college at a Big Ten University away from home; my teenage son was entering his sophomore year of high-school in a prominent private school and living alone with his mom commencing rigorous Chemotherapy; the prospect of needing to sell our home; and lastly, I had been preparing to open a new medical office.
By profession, I am a podiatrist. The diagnosis and subsequent treatment prevented me from starting my new practice.  Worse still, my condition interfered with my very ability to continue in my existing practice. As a matter of professional responsibility, I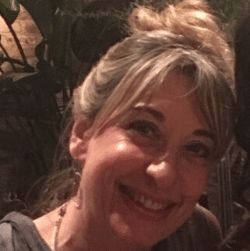 needed to make arrangements for my patients to continue on with new physicians. My husband of 25 years was also a prominent podiatrist, but he had inexplicably abdicated his involvement in the life we had built together.  My physical health and emotional well-being were being simultaneously vetted.  To me, it was a challenge as epic and real as that of Homer's brave Odysseus in a catastrophic fight for his very life and soul, a struggle for the life and home he had once known and refused to leave behind. In retrospect, it cannot be more understated, the restructuring of my life and family took a toll on me emotionally.  Looking back, remaining strong and positive was a key component to survival in my personal war with cancer.
The news was devastating for our children. They were accustomed to their strong driven indestructible mother who coordinated every aspect of our family. My daughter, just starting college, clearly endured the pressure and concern that she was not physically available to help me, starting college out of state.  By the grace of God, my son (still in high-school and in many ways) mature beyond his years told me, "Mom, I'm here. You will get through this and you will be fine."   I knew I had a reason to get up, get dressed, put on my wig, make him breakfast and drive him to school. My belief he needed me outweighed any and every self-absorbed concern for my own fragile condition or descent into the sorrow of self-loathing and depression.
The support of family, close friends and loved ones is an integral intangible requisite to cancer's patient's survival. By one of those idiosyncratic coincidences in life, I started my first chemotherapy treatment on my mother's birthday.  My mother happens to be a medical professional as well, so it was easier to talk to her about my diagnosis and tribulations. My family, with the exception of my son, all lived out of state.  At times like these, I cannot stress enough, you really do need the support of family and loved ones. I was lucky to have many supportive friends; the importance of a ride to my therapy and then back home again. Never ever wanting to be anyone's burden, I am forever grateful for every kindness shown at such a catastrophic period in my life.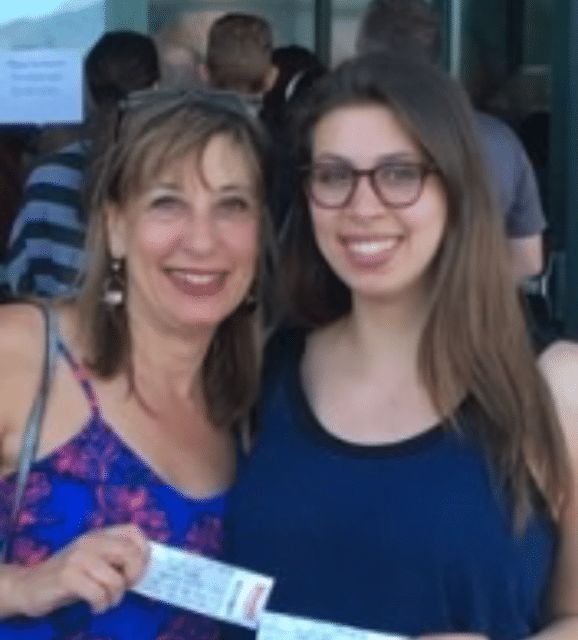 That being said: my biggest question to my medical team was a concern of recurrence or the likelihood of developing another insidious cancer, second only to clinging hopefully for remission and a cure.  Having a medical background, I immediately started researching my diagnosis, reading medical journals, devouring resources on the internet.  A trusted friend referred me to Dr. Stephanie Gregory, an Oncologist at Rush University Hospital who has since retired.  I comfortably trusted her knowledge and expertise.  I liked her.  I entrusted her with my care.
Knowing my lymphoma was aggressive but treatable, we immediately commenced a treatment plan typical for Large B-cell lymphoma: six rounds of R-CHOP (rituximab, cyclophosphamide, doxorubicin, vincristine, prednisone) every three weeks. Some of the side effects I experienced included peripheral neuropathy (pain, numbness, tingling in the hands and feet) and hair loss. The devastation of hair loss was very traumatic for me. I remember being in a hotel room with my daughter when taking her to college and losing a large portion of my hair. I will forever remember the unforgettably awful feeling.  As we were walking across her college campus, I was wearing a sleeveless top and the hair was trickling down my arms as it was falling out. I called it the trickle-down effect. I will carry that horror with me as long as I live.  It affected me deeply.
The chemotherapy treatments are cumulative. The first treatment was not as progressively bad as the last. You feel more tired and rundown after each treatment; a feeling akin to how one would feel with mononucleosis. Walking around with a WBC, less than normal, you feel weak and immuno-compromised. My indigestion and the metallic taste in my mouth ruined most food, it was nearly intolerable.  It was so bad one day that a good friend of mine picked me up from treatment and insisted, for carbonation for my stomach, took me to Pops for Champagne.  Over some bubbly, we celebrated another chemo treatment completed.  It made my day!  I felt a little part of me celebrate in a world that had gone topsy (tipsy) turvy.  It was a world suddenly without the confident certainty I had always known, relished, a life I almost took for granted.
My advice to newly diagnosed patients is to become knowledgeable about your diagnosis. Do your own research on credible websites. The internet, while never a substitute for a Board-Certified Licensed Oncologist, is an abundant source of cogent and current information. Seek consultations and opinions from experts knowledgeable in Oncology. It is also helpful on many levels to bring a loved one to the meetings with you, someone who can be counted on to take notes by virtue of the fact that so much of what you hear is so personal and overwhelming.  It is nearly impossible to process it all. A good friend went with me to all my meetings and doctor appointments, for that very reason. Also, depending on your diagnosis, you might even qualify for Clinical Trial enrollment.  Explore all available avenues.  Your survival and return to good health more than justify your determined pursuit.
Having a good support system and keeping a positive mental attitude is essential.  Just as vital is proper nutrition and exercise. I tried to work-out every day, even if it was only a forced 5 to 10 minutes on a treadmill, which, for me, was stress relief, an opportunity to feel my heartbeat deeply and zone (out or) in mentally on the bitter irony of my divorce.  Find a focus.  For me, the divorce, looming, thrust upon me in the face of my illness, quite possibly was a distraction that simultaneously combined to cause my cancer and contributed to saving my life.  My immediate family had always been the center of my world. Fighting for my family, another cause worthy of Herculean struggle, a life determined to live for.
Non-Hodgkin Lymphoma has changed my life.  I am grateful for the opportunity to help others and be a part of the Lymphoma Research Foundation (LRF). I have learned not to sweat the small stuff, to embrace the wonder of life to its fullest. To sing my life in song, I indulge in Elton John's "I'm still standing".
"Don't you know I'm still standing better than I ever did, Looking like a true survivor, feeling like a little kid, I'm still standing after all this time,Picking up the pieces of my life without you on my mind."
My experience with lymphoma has left its mark. The good news is, I am cancer-free. I belong to a new club. I am a survivor. Live in the moment and share with others your journey. I first learned about the Lymphoma Research Foundation through my Oncologist from a dear friend and survivor. Getting involved with LRF has been more than a silver lining.  Being a caregiver by profession, I want to help other patients. My medical training allows me to be part of LRF in a truly meaningful way.  I am currently involved with LRF for fundraisers, walk-a-thons and professional peer review panels for LRF and DOD. Reviewing clinical applications for funding is very important in ongoing life-saving clinical research.
I take my involvement seriously. I am a caregiver by profession and a survivor by the grace of medical research and clinical application.  It is my greatest gift, to be an Ambassador for LRF, to share my story, to further hope, to ensure life, to make certain we are all long-lived survivors who no longer sweat the small stuff and live our life to the fullest.