I was diagnosed with Hodgkin lymphoma on March 28, 2013. My first reaction was "This is not what I want to hear." Then I wondered, "Why me?"
My very first symptom was a persistent cough that started in November 2012. I tried over-the-counter cough medicines followed by prescription cough syrup and antibiotics, but nothing helped. On my primary doctor's suggestion, I had a computed tomography (CT) scan that showed that my lymph nodes were enlarged around my lungs, which was causing the cough. My doctor suspected lymphoma and referred me to a specialist. The news of a potential cancer diagnosis left me scared and confused. After doing some research, I realized that I had been experiencing many of the symptoms of lymphoma, which I attributed to the flu. I had lost substantial weight, had night sweats, and had no energy for basic daily activities like taking a shower or standing for long periods; I just didn't feel like myself. It was pretty frightening. The results of my biopsy came back positive for lymphoma. I thought that I was going to die and that the diagnosis was a death sentence.
My family members were with me at the hospital when I learned of my diagnosis. It was a very sad and scary moment for all of us. My family really did not show their emotions in front of me, but I knew they were as devastated as I was. No one wants to be told they have cancer, or have a close relative or friend go through it. My family and friends were very supportive throughout my entire journey and continue to support me even to this day. I was very open about my diagnosis and posted updates on Facebook so my friends and family could stay informed and hear how I was doing as I went through treatment. A lot of people told me that they were very inspired by my positivity throughout my journey, which made me feel good. Receiving that support and encouragement really helped me. During that time, I had my ups and downs with weight loss, hair loss, and skin discoloration, but I managed to always keep a smile on my face to give others hope. It was a great feeling to be able to motivate and inspire others. People used to say, "You look great considering what you're going through. You're always smiling."
Prior to my treatment, I had several questions for my medical team. As a 27-year-old female, I was concerned about my fertility and if I would be able to have children in the future. I also wanted to know how the treatment would make me feel; for example, would it give me an upset stomach or cause me to vomit? Would I be able to continue to work and continue with my daily routine and activities? Discussing my concerns and asking questions before I began treatment helped so I would know what to expect and how to address these potential side effects if I experienced any of them.
My treatment regimen was A- Adriamycin (doxorubicin), V- vinblastine, and D-dacarbazine (AVD). I did not receive ABVD, which includes bleomycin as part of AVD treatment, due to issues I was having with my lungs. I was lucky to end up with the best oncologist. To this day, my oncologist is amazing and still very supportive. I feel that, after God, she saved my life. She was there for me whenever I needed her at any time of the day or night. We trusted my oncologist and believed she would suggest a treatment that would put me in remission and save my life.
Hodgkin lymphoma has changed my life in an amazing way. Like any other person, when I was first diagnosed I asked God a thousand times, "Why me? Why are you taking me through this journey? Why did you put cancer in my life? Why me?" However, after thinking about where I came from, my family and growing up in the church, I thought, "Why not me?"
I am also thankful for the support I received from my employer and my co-workers. I had taken time off from work about a week before my formal diagnosis because I was feeling really sick, and did not return until the second week of July. I was still undergoing chemotherapy when I went back to work, so I needed to take off every other Friday for my treatment. My employer and colleagues were very supportive and came to see me during times when I ended up in the hospital. After a chemotherapy session, if I did not feel well enough to go to work the following Monday, it was not a problem for me to take the day off so I could rest.
With my faith and prayer to support me, I realized I was going through this journey for a reason. Now, here I am, five years later, and am able to share my story with so many people in the cancer community. I am able to give hope and encourage others to fight and to never give up. Having Hodgkin lymphoma has changed my life for the better. Back then, I thought, "This is bad. I'm hurting. I'm sick." Even during that time I kept pushing and fighting, and here I am, able to be a voice and a face, to be an ambassador, and to help others. People always tell me that I push them and motivate them in what they are going through and not necessarily just with regards to cancer. It is a great feeling to be where I am today and to be able to inspire others who are going through what I went through.
I always tell new patients to never give up hope, and to know this is just a temporary storm. I had the desire to survive, and I want others to have that same desire. I always say, "Never give up your fight, and continue to survive with your beautiful smile."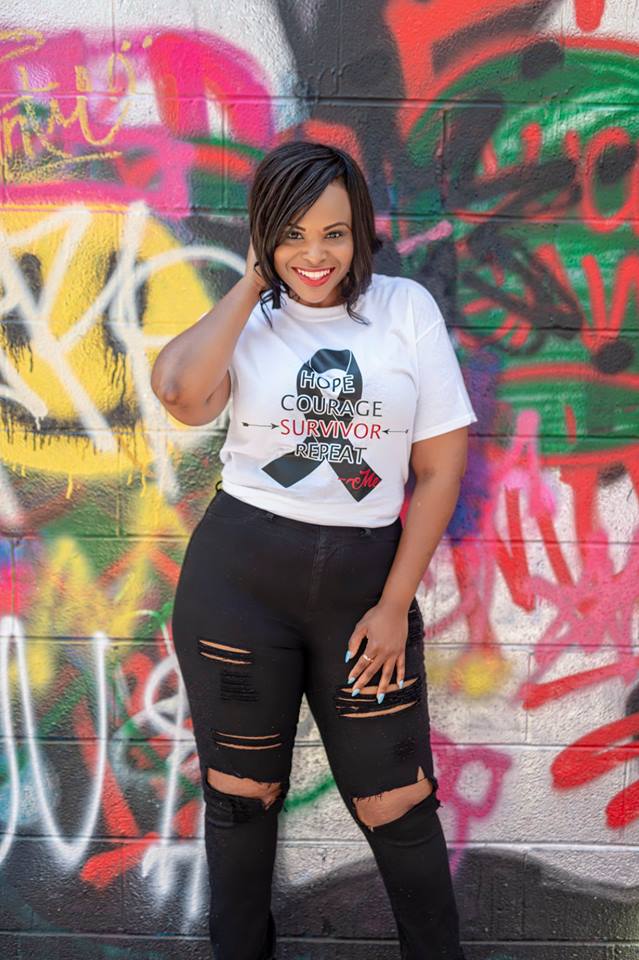 I first learned about the Lymphoma Research Foundation (LRF), through my social worker. I was contacted by LRF and was asked to share my story on the "Stories of Hope" webpage on LRF's website (lymphoma.org). I have participated in the Team LRF Lymphoma Walk in my hometown, and raised funds with my team. I have also attended the North American Educational Forums held annually, have participated in LRF's cancer awareness campaign videos (Together we can #EraseLymphoma), and am also involved in the Foundation's adolescent and young adult initiative, Erase Lymphoma. The Lymphoma Research Foundation is a great source for information and educational resources and is comprised of a wonderful group of people who are very supportive. For the past five years, I have been a part of the LRF family and am always happy to participate in activities they are doing as an organization.
My advice to newly diagnosed patients is to continue to fight and never give up. Sometimes your family and friends do not know what you are going through physically or mentally, but there is always support available from former patients like myself, and organizations like the Lymphoma Research Foundation.