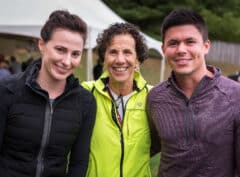 In 2003, my husband Gary and I were busy doing a major renovation on our home. A few months into the renovation, I noticed a lump on my neck that had caused me a bit of concern. I immediately went to visit my primary care physician who told me that my lymph nodes were probably swollen due to a cold. After that appointment, I thought nothing of it and continued the renovation of my home. It wasn't until we were fully settled into our newly renovated home that my daughter noticed the lump was still visible. After a CT scan and biopsy, I was diagnosed in January 2004 with follicular lymphoma. It was a total shock to me because I was otherwise healthy and feeling fine. This was very surreal to me and my family.
When I received my diagnosis, my husband and I did a wide breadth of research on the disease. Living in the Washington, D.C. area, we knew many people who work for the National Cancer Institute (NCI) or medical institutions affiliated with NCI. My husband and I sent out a request to all of our friends and associates in the medical field for recommendations for a lymphoma specialist. We were ultimately recommended to Dr. Bruce Cheson of Georgetown University Hospital/Lombardi Comprehensive Cancer Center.
"It was a total shock to me because I was otherwise healthy and feeling fine."
Because follicular lymphoma is an indolent (slow-growing) lymphoma, I was under "active surveillance" for a few months to monitor the disease's progression.
After my nodes became enlarged, Dr. Cheson decided it was time for me to be treated. I was treated with four rounds of rituximab (Rituxan) and went into remission quickly afterwards. Unfortunately, two years later, my lymphoma relapsed.
Fortunately, there was a new drug available to me. I was treated with ibritumomab tiuxetan (Zevalin)—which was the first radioimmunotherapy drug approved by the U.S. Food and Drug Administration (FDA). After my treatment with ibritumomab tiuxetan, I was happy to hear I was in remission again. Five years later, I relapsed once more and was treated with a new drug, bendamustine (Treanda), and have been in remission since then. One thing I have been so grateful for, especially with my last treatment, is the approval and availability of effective new drugs with less toxicity. The side effects with these new drugs are much lower than with traditional chemotherapy drugs—this is something very important to me especially having relapsed twice—I want to make sure my treatments are effective and less tolling on my body.
During my treatments I began to learn all I could about clinical trials and the research process. What I've learned was many drugs in clinical trials and ultimately approved by the FDA are funded, in part, by funds raised for research. Knowing that many lymphoma patients, including myself, may have to be treated for this disease multiple times throughout their lifetime, I became very passionate about raising funds for potentially life-saving treatments.
"I haven't been sick from my treatments—and that'd due to new and effective treatments coming through the pipeline."
In 2007, Dr. Cheson—who was then elected the chair of the Lymphoma Research Foundation's Scientific Advisory Board—approached me with a wonderful idea. He and his family wanted to do something special for his patients and their loved ones to honor them and raise awareness and funds for lymphoma research. Because many of his patients were devoted cyclists, he wanted to create a day where lymphoma patients, their families, members of the medical community and cycling aficionados can all come together, raise funds for research and ride their bikes. Thus, the Lymphoma Research Ride was created. My husband and I were more than happy to take part in the planning of this wonderful event. And we're so proud to say that for the past nine years, the annual Ride has raised more than $4 million specifically to support the Lymphoma Research Foundation's mission to eradicate lymphoma. We are very excited to celebrate the Ride's 10th anniversary this year and remain dedicated to ride toward a future without lymphoma.
Here I am, nearly 12 years since my initial diagnosis and I'm feeling great! I haven't been sick from my treatments—and that's due to new and effective treatments coming through the pipeline. Knowing that I may have to undergo treatment again for this disease, I am hopeful that new drugs will be available to me; and I am proud that my part in raising critical funds for innovative lymphoma research will help make that a possibility.