Rich, Peripheral T-Cell Lymphoma Survivor
My story began in 2007 with persistent skin issues and excessive chills. I was examined by a dermatologist who took a biopsy. His diagnosis? Simply an "allergic reaction." During this weird skin flare-up, he ordered blood tests. When the blood work came back, my wife, who is a registered nurse, noticed some irregularities and recommended that I see a hematologist. During my visit with the hematologist/oncologist, my lymph nodes were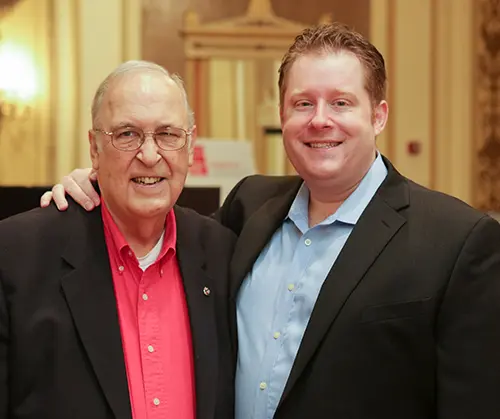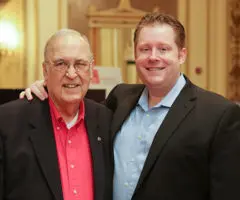 enlarged, and it was suggested that this could be something very serious — possibly lymphoma (not simply an allergic reaction!). But, of course, I needed further testing including a CT scan, bone marrow biopsy, and surgical biopsy of a lymph node.
The preliminary diagnosis was lymphoma, but no one knew what type. While waiting for the initial test results, which took more than 6 weeks, it was clear that I needed multiple medical opinions as I only had more questions than answers. Fortunately, my niece did a medical internship and connected us with a pathologist for a second opinion. I saw specialists at many medical institutions. All of them told me this was a very rare, aggressive lymphoma. And thanks to the pathologist, my diagnosis came back as Stage IV peripheral T-cell lymphoma, unspecified, which helped us determine my treatment options, and ultimately saved my life.
"When people ask, 'Can an older person make it through and survivor chemo?' the answer is, 'Yes!"
This is a type of cancer so uncommon that no current standardized treatment existed. I was consulting with multiple lymphoma specialists and I qualified for a clinical trial that was — thank God! — specifically targeting T-cell lymphoma. Every doctor I consulted told me the more aggressive trial would be their own personal choice, so I decided to start treatment in May 2008. The treatment consisted of six, three-week cycles that ended in September. I was admitted on a Thursday evening and would stay onsite until the following Tuesday; they would administer the chemotherapy and the biologic medicine called alemtuzumab (Campath) through a slow-drip process. Thanks to modern technology, the chemo was in a fanny pack where a motor would pump the chemo into my arm for 24 hours every day. While the amount of drug administered was the same as a cyclophosphamide-doxorubicin-vincristine-prednisone (CHOP) treatment, the slow-drip added up to roughly 650 hours of chemo over 4 months.
I was 65-years-old when I started treatment. So, when people ask, "Can an older person make it through and survive chemo?" the answer is, "YES!". Fortunately, I didn't experience many of the typical symptoms of chemo. I did lose my hair and could control the other side effects with medications prescribed by my doctor. There were up and down temperature swings; the treatment had an effect on my memory, mood, and cognitive capabilities, and I experienced heavy fatigue. The only time it really hit me hard was during the very last cycle when I was taking cyclophosphamide (Cytoxan). That really knocked me out!
Truth be told, I owe a lot of credit to my wife and son, who really helped me out on the day-to-day things. My son was unrelenting to make sure that no stone was left unturned, and my wife was my primary caregiver. The best part is, during all this I was still able to have fun with my family. My son wanted me to get out of the hospital and go to the theatre. He arranged a day pass with the doctor and we went to see The Lion King and other musicals. (I even had the opportunity to meet Chita Rivera after a show and told her, "You did a wonderful performance. I want to tell you something. While I'm talking to you, I'm getting chemotherapy." She said, "What are you talking about?" I pointed to my fanny pack and said, "See this bag? This is chemotherapy being pumped in through my arm into my body while I'm talking to you." She expressed her surprise and gave me a big hug.) Remember, chemo doesn't have to stop your life.
"Around my house, we like to say, 'CANCER-FREE'."
The other great fun happened when I went in each week for treatment wearing one of the many wigs my son purchased. I would walk into the facility and everyone would smile and laugh. The staff looked forward to my visits and new looks. Some of the staff and oncologists would even get into the spirit and pose with the wigs – dreadlocks, Edward Scissorhands, California surfer dude, Japanese samurai, blonde afro, and more.
To this day, I continue to experience neuropathy in my feet since the completion of the clinical trial. It feels like I'm walking on egg shells. And from time to time, I still get fatigued, but it's not as bad as before, and my memory and other capabilities have returned. I'm happy to say that I am in complete remission. Around my house, we like to say, "CANCER-FREE!"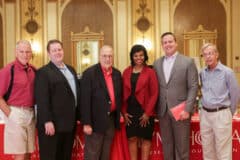 I was a lobbyist for many years and thanks to the Lymphoma Research Foundation's (LRF) new Ambassador program, I now advocate on Capitol Hill for issues relating to the lymphoma community. I'm also a Lymphoma Support Network volunteer for LRF. I want to give back by helping other patients experiencing the same scary process I did.
When I first connect with patients I do everything I can to encourage them to talk. I can't offer medical advice, but I can offer empathy, shared experiences, and advice on resources. I tell them that it's paramount that they handle their cancer with the right attitude. If you want to live, you must have that attitude going into it, and throughout the entire experience. You must put your heart and soul into the desire to want to conquer it. You simply can't give up. It is attitude, attitude, attitude. Take the bull by the horns and run with it. And if I can do it, so can you!