Researcher Spotlight: Tayla Heavican-Foral, PhD
DANA-FARBER CANCER INSTITUTE
DR. OLIVER PRESS MEMORIAL FELLOW
HEALTH EQUITY INITIATIVE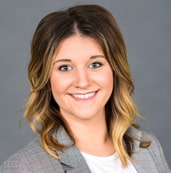 Despite treatment advances in the lymphoma space, many patients with T-cell lymphomas (TCL) still experience limited response rates, often lasting for short durations, with currently available therapies. Emerging evidence suggests that a combination approach using chimeric antigen receptor (CAR) T-cell therapies with BH3 mimetics – a class of drugs that promote cancer cell death – may possess synergistic anti-cancer effects in TCL. Dr. Heavican-Foral's research is focused on understanding these combinatorial effects, including understanding mechanisms of drug resistance and identification of markers to predict treatment responses. "These results could be used to nominate future combination strategies and guide patient monitoring to improve clinical outcomes," she says.
Dr. Heavican-Foral's career in lymphoma research began during her time as an undergraduate student at the University of Nebraska in Omaha, NE. After earning her PhD from the University of Nebraska Medical Center, she began her postdoctoral training at the Dana-Farber Cancer Institute and Harvard Medical School in Boston, MA. She was selected as an LRF Lymphoma Scientific Research Mentoring Program Scholar in 2022, which has helped build her passion for and expertise in lymphoma research. "As a Scholar on the translational track, this program has provided me with opportunities to receive critical feedback on my research projects and proposals, access to exceptional mentorship from lymphoma experts, and uniquely organized in person events promoting career development," she says.
Leveraging her research and training experiences, Dr. Heavican-Foral hopes to one day lead her own laboratory performing translational lymphoma research, with a focus on the identification and exploitation of novel therapeutic targets. "I have a hunger for discovery, and the many unknowns that still exist in our understanding of [TCL] biology and pathogenesis motivate me to continue pursuing the answers through innovative research efforts," she says.