Researcher Spotlight: Xiaolong (Alan) Zhou, MD
NORTHWESTERN UNIVERSITY FEINBERG SCHOOL OF MEDICINE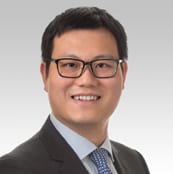 The abscopal effect refers to the infrequent ability of radiation therapy (RT) to stimulate antitumor immune responses that result in the shrinkage of tumors outside of RT-targeted sites. Antitumor immune effects can also be stimulated using a topical cream (imiquimod), which is sometimes used off-label in early-stage cutaneous T cell lymphoma (CTCL). In Dr. Zhou's LRF research project, these two potential immune-stimulating therapies – RT and imiquimod – will be combined to evaluate the ability to provide improved antitumor responses that improve disease control in a group of patients with CTCL. "Additionally, we will investigate the skin, nasal, and gut microbiomes and skin and blood biomarkers associated with clinical response or toxicity to better understand how to further maximize RT's antitumor effects," he adds.
Dr. Zhou first became interested in cancer research as a high school student, where he had the opportunity study mechanisms involved in lymphoma cell death. Since then, he has earned his medical degree from Duke University School of Medicine in Durham, NC, and completed a postdoctoral fellowship in cutaneous oncology and developmental therapeutics at the Northwestern University Feinberg School of Medicine in Chicago, IL. He is currently an Assistant Professor of Dermatology at Northwestern University, where his research team is working to develop effective, long-lasting treatment for CTCL. "My goal is to use skin lymphomas as a model system to better understand cancer-immune-microbiome interactions and to develop more effective treatments for lymphoma patients in general," he explains.
As he looks forward to the future, Dr. Zhou is hopeful that recent advances in lymphoma research will allow for more personalized approaches to treatment and prevention. "The explosion of novel technologies to investigate the genetics, immune microenvironment, and microbiome of lymphomas gives us an opportunity to not only better understand pathophysiology, but also to develop personalized therapies," he says.