Researcher Spotlight: Yifei Liao, PhD
BRIGHAM AND WOMEN'S HOSPITAL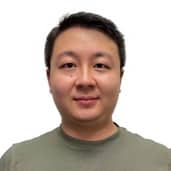 Several types of lymphomas have been associated with Epstein-Barr virus (EBV) infection. Little is known about how EBV manipulates cellular processes in lymphoma, though, including how it evades detection by the immune system. Dr. Liao's LRF research project therefore aims to investigate the mechanisms that drive EBV-associated lymphomas within the cell and the germinal center microenvironment, where lymphoid cells proliferate and develop. "Current therapeutic approaches for Burkitt and Hodgkin lymphoma use high-intensity chemotherapies that do not harness the presence of viral antigens and, consequently, have significant toxicity and risk of secondary malignancies," he says. Dr. Liao hopes that an improved understanding of how EBV contributes to lymphoma development will offer an opportunity for more targeted treatment in these types of cancers.
Dr. Liao began his research in viral oncology during his graduate studies at Texas A&M University in College Station, TX, where he studied the role of other herpesviruses in T-cell lymphomas in poultry. After earning his PhD, he started his postdoctoral research at Brigham and Women's Hospital of Harvard Medical School in Boston, MA, where he studies EBV latency and reactivation in lymphoid cells.
Looking ahead to the future, Dr. Liao is excited to continue his research career studying the role of herpesviruses in lymphoma. In addition to understanding the basic mechanisms of how these viruses contribute to disease, he hopes to pursue translational research that supports the development of novel therapies for patients with these lymphomas.