Researcher Spotlight
Researcher Spotlight: Abner Louissaint, MD, PhD
Massachusetts General hospital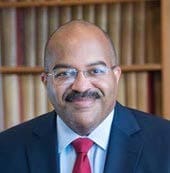 Follicular lymphoma (FL) is unique among lymphomas in that there are many interactions between tumor cells and the healthy immune cells in their environment. Although it's known that this communication is important for tumor cell survival, studying these interactions has been difficult. Using a novel model in which human lymphoma cells are grown in mice, Dr. Louissaint's LRF research aims to understand how lymphoma cells communicate with other tissues in the environment. "We hope to discover new and more effective ways to treat FL by strategically disrupting this communication between lymphoma cell and the microenvironment," he explains.
Dr. Louissaint is an Associate Professor of Pathology at Harvard Medical School. He completed his medical training at Weill Medical College of Cornell University in New York, where he also earned his PhD. He first became interested in lymphoma research as a junior pathologist while studying the genetic causes of a unique type of lymphoma that occurs in children known as pediatric type FL. "While studying this and other variants of FL, I became interested in creating patient-derived xenograft models of lymphoma to study the biology of lymphoma," he says.
Using these models, Dr. Louissaint's research is now focused on understanding how lymphoma cells interact with the healthy cells around them. He hopes that unraveling these processes will help identify the mechanisms that promote lymphoma cell survival, identify new possible targets for therapeutic intervention, and illuminate why some cases of FL resist treatment. "By doing so, we hope to learn how to better predict which patients may respond poorly to therapy and/or progress to more aggressive disease," he says.