Researcher Spotlight
Researcher Spotlight: David A. Bond, MD
The Ohio State University Comprehensive Cancer Center Arthur G. James Cancer Hospital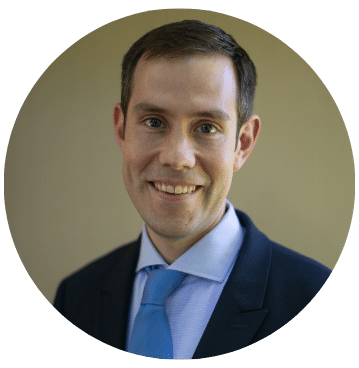 Diffuse large B-cell lymphoma (DLBCL) is the most
common type of non-Hodgkin lymphoma (NHL). Since
DLBCL can advance quickly, it usually requires immediate
treatment, which leads to disease remission in a large number of patients. However, there is an unmet need for more effective therapies in the second and third-line setting. Developing immunochemotherapy has shown activity in small studies of heavily pre-treated patients
with prolonged remissions achieved in some patients. Dr. David Bond's LRF research project is a clinical trial exploring the monoclonal antibody therapy tafasitamab combined with the oral drug lenalidomide (Revlimid) followed by tafasitamab combined with the chemotherapy ICE (ifosfamide, carboplatin, and etoposide) for treatment of DLBCL patients who have relapsed after their first
treatment. "The goal of this treatment is to allow for a higher proportion of patients with relapsed diffuse large B cell lymphoma to achieve complete remission and be able to proceed to curative treatment with autologous stem cell transplant," he explains.
Dr. Bond obtained his MD from Indiana University School of Medicine. He completed his residency, fellowship and is currently a Clinical Assistant Professor at Ohio State University. His interest in lymphoma is fueled by a personal experience with NHL and several mentors who have been crucial examples of combining exceptional clinical care with a clinical investigation in their careers to advance the treatment of patients with hematologic malignancies. "The inspiration for this project is in part our institutional experience with the combination of tafasitamab and lenalidomide, with Ohio State University contributing to both early clinical and preclinical work
with this combination, and my experience caring for patients with relapsed Diffuse large B-cell lymphoma recognizing the limitations of our current standard of care treatments," Dr. Bond states.
After completing his LRF research project, Dr. Bond aspires to become an independent and established lymphoma clinical investigator with ongoing trials, and a clinical practice dedicated to patients with lymphoma. "I have benefited greatly from the example and mentorship of faculty at a more advanced stage in their careers, as previously mentioned, and I hope to have mentees of my own in 10 years' time and have the chance to contribute to future generations of lymphoma clinical researchers."