Researcher Spotlight: Joshua Brody, MD
ICAHN SCHOOL OF MEDICINE AT MOUNT SINAI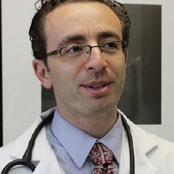 Immunotherapies, such as chimeric antigen receptor (CAR) T-cell therapies and bispecific antibodies, have revolutionized the treatment of follicular lymphoma (FL), but many patients still relapse. Antigen escape is a common cause of relapse in FL, which refers to the loss of expression of the molecular target (antigen) on the surface of tumor cells. Antigen-negative cells are often already present even before therapy begins; Dr. Brody's research is focused on characterizing these cells to identify features that can be targeted in combination therapy regimens, which he believes will help prevent patients from relapsing.
Dr. Brody earned his medical degree from the State University of New York at Stony Brook and completed his fellowship training at the Stanford University Medical Center in California. He is currently an Associate Professor at the Icahn School of Medicine at Mount Sinai in New York, where he serves as the Director of the Lymphoma Immunotherapy Program. His interest in cancer research began early in life. "My father was a cancer immunotherapy physician-scientist long before immunotherapy was 'cool'," he says. "When we could not get a babysitter, he would take me to the lab and show me cancer cells under the microscope."
The development of new immunotherapies gives Dr. Brody hope for the future of FL treatment. "I envision a future in which patients will receive some of these therapies will be incorporated as early-line therapy, allowing patients to avoid repeated, sometimes unhelpful, use of chemotherapies," he says. He hopes that his research will take these immunotherapies further, helping patients to avoid the difficult nature of relapsing disease.
Dr. Brody also received an LRF Career Development Award (CDA) in 2007 and was in the inaugural Lymphoma Scientific Research Mentoring Program (LSRMP) class in 2014.