Researcher Spotlight: Matthew Maurer, D.M.Sc
MAYO CLINIC, ROCHESTER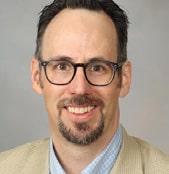 Follicular lymphoma (FL) is a heterogeneous disease characterized by episodes of relapse and transformation. Prognostic models exist that can be applied at diagnosis to predict how the disease will progress and what treatment options are appropriate for individual patients. Using data from the Lymphoma Epidemiology of Outcomes (LEO) Cohort, Dr. Maurer hopes to develop new, predictive models that can be applied at the time of relapse to help distinguish patients who will respond well to standard therapy from those with high-risk disease who may require novel treatment approaches. He hopes that these models will provide a better understanding of prognosis and outcomes in later stages of lymphoma and offer an opportunity to better meet the needs of individual patients.
Dr. Maurer earned his Doctor Medicinae from Aalborg University in Aalborg, Denmark. He is an Assistant Professor of Biostatistics and Medicine at the Mayo Clinic in Rochester, MN, where he serves as the statistical lead for the lymphoma research program. His interest in understanding FL prognosis and outcomes in FL comes from his personal experiences navigating his father's lung cancer diagnosis. "Despite my background in medical research and biostatistics, including working on lung cancer clinical trials earlier in my career, I found it very difficult to find good information about what his personal prognosis was," he explains. "The complexity of FL, including numerous therapy options and range of outcomes, makes this even more critical for patients and loved ones in this setting."
In addition to risk prediction, Dr. Maurer has an interest in understanding patients' experiences with FL and treatment. "We will also perform focus groups and surveys of our survivors of FL in the LEO Cohort to understand what features and outcomes of current therapies are most relevant to patients," he says. "This will help us better meet patient needs when navigating multiple therapy options.