Foundation to Celebrate Achievements of Honorees AstraZeneca, Thomas M. Habermann, MD and Heroes Among the Lymphoma Community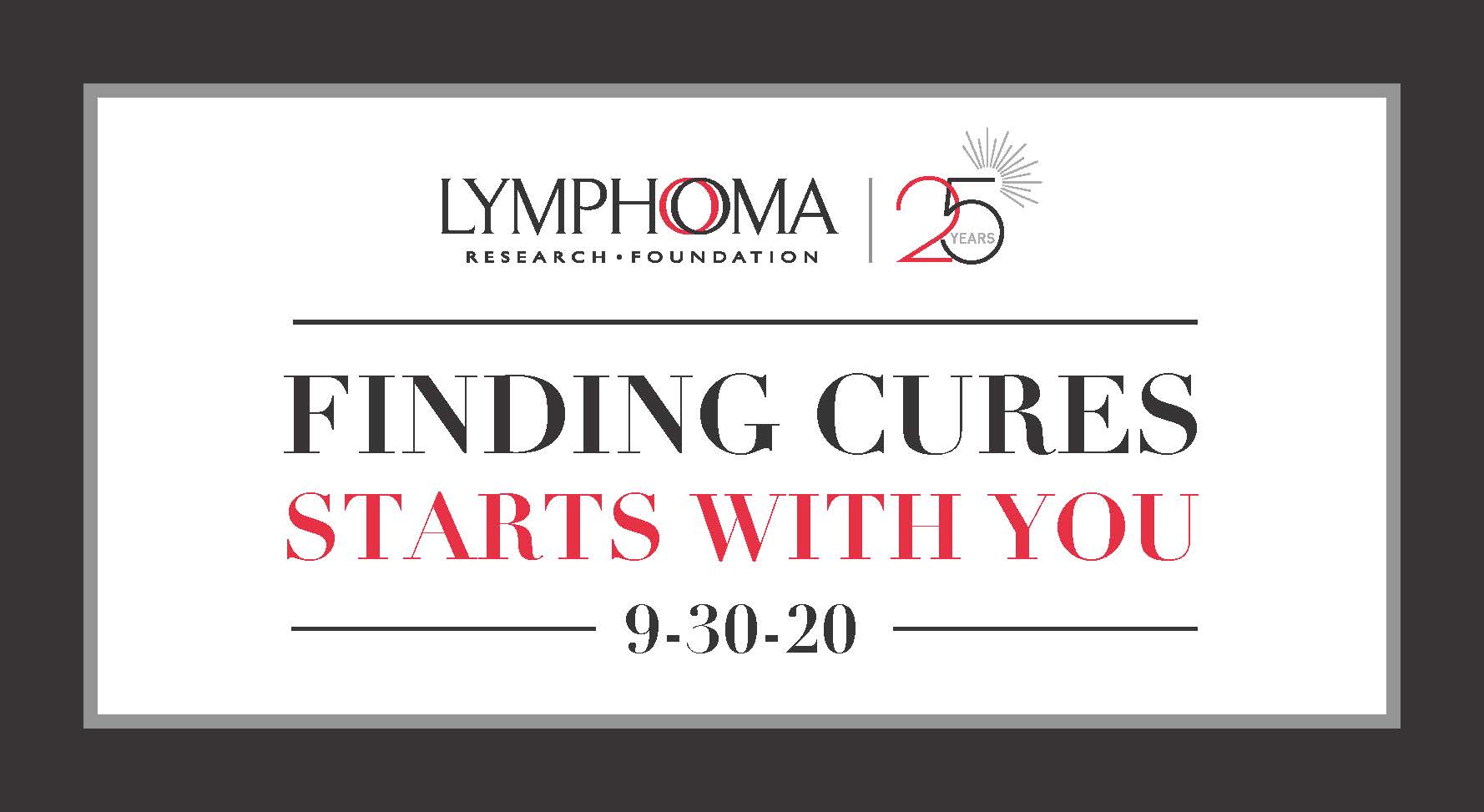 The Lymphoma Research Foundation (LRF)  is marking its 25th Anniversary with a special virtual LRF Gala and Charity Auction on Wednesday, Sept. 30.  The "Finding Cures Starts With You" 25th Anniversary Gala will honor AstraZeneca with its Corporate Leadership Award, Thomas M. Habermann, MD with its Distinguished Leadership Award, and will pay tribute to impactful members of the lymphoma community.
The Gala will bring together leaders from across the lymphoma community—including health care providers, researchers, corporate partners, patients, survivors, and volunteers—to raise vital funds to support LRF's mission to eradicate lymphoma and serve those touched by this disease.
The Lymphoma Research Foundation will honor AstraZeneca with this year's Corporate Leadership Award for its commitment to innovative research, improving patient outcomes, and patient education programming for people with lymphoma and chronic lymphocytic leukemia (CLL).
"We value our collaboration and fully support the Lymphoma Research Foundation in their mission to eradicate lymphoma and serve those touched by this disease," said Chatrick Paul, Senior Vice President of AstraZeneca's U.S. Oncology Business. "Putting patients first is at the heart of everything we do at AstraZeneca and we are honored to be recognized with the Corporate Leadership Award. Together with the blood cancer community, we hope to continue to drive innovative research and provide support to address the holistic needs of all cancer patients and their caregivers."
The Foundation will also honor Dr. Thomas Habermann, Professor of Medicine and Consultant, Division of Hematology, Department of Internal Medicine at Mayo Clinic Rochester; and past Chair (2017-2019) and current member of the LRF Scientific Advisory Board, for his longstanding support of the Lymphoma Research Foundation, his dedication to lymphoma patients and their loved ones, and his achievements in lymphoma research and clinical care.
"We are excited to honor Dr. Habermann with the Distinguished Leadership Award.  His accomplishments in lymphoma research and the clinic have impacted the treatment landscape and led to a lasting impact on patient outcomes," said Steven Eichberg, Chair of the Lymphoma Research Foundation Board of Directors. "In addition to his groundbreaking research and outstanding clinical care, Dr. Habermann has been instrumental in steering the Foundation's research initiatives through our elite Scientific Advisory Board, helping to ensure that the next generation of scientists enters and remains in the field of lymphoma."
"I am truly honored to be involved with the Lymphoma Research Foundation and to be recognized with the Distinguished Leadership Award," said Dr. Habermann.  "The Foundation is critical to helping advance research and improved therapies for lymphoma patients and empowering patients through education."
Heroes Among Us
On the occasion of its 25th Anniversary, LRF invites supporters to help tell the story of the lymphoma community by recognizing the Heroes Among Us.
From physicians and nurses to family members and friends, Heroes Among Us have played a critical role in supporting lymphoma patients and survivors on their journey. Corporate Leadership Award Honoree AstraZeneca recognizes these Heroes Among Us at the 25th Anniversary Gala:
Andrew Mortlock, Vice President, Projects, Hematology
Priti Patel, Global Clinical Lead, Hematology
Michelle Dawson, Global Hematology Portfolio Lead
Erik Schrader, Head, US Hematology Franchise
More Heroes Among Us will be recognized and celebrated during an exclusive programmatic segment the evening of the Gala.
"I could not think of a group of honorees more deserving of recognition during this milestone Gala," said Meghan Gutierrez, Chief Executive Offer of the Lymphoma Research Foundation.  "We are pleased to honor AstraZeneca, Dr. Habermann, and the many Heroes Among Us who have not only made a tremendous impact on the lymphoma community and LRF, but who will enable LRF to accelerate research at a pace that will make a meaningful difference in the lives of the more than 100,000 people diagnosed with lymphoma each year."
For more information about the Lymphoma Research Foundation's "Finding Cures Starts Here" 25th Anniversary Gala, please contact Rebecca Rausch at 646-465-9106 or rrausch@lymphoma.org, or visit lymphoma.org/gala.
About Thomas M. Habermann, MD
Dr. Habermann is a Professor of Medicine, and Consultant, Division of Hematology, Department of Internal Medicine at Mayo, Clinic Rochester. He received his MD from Creighton University before completing his residency and fellowship at the Mayo Graduate School of Medicine.  He is a member of the Iowa/Mayo Clinic Lymphoma Specialized Program of Research Excellence (SPORE) grant and has previously served as Chair of the Mayo Clinic Lymphoma Group.
A long-time member of the Scientific Advisory Board, Dr. Habermann served as Chair of the SAB from 2017 to 2019.  Dr. Habermann also serves as Chair of the LRF annual Minnesota Lymphoma Workshop, a one-day patient education program that serves over 300 patients each year and has served as faculty for several LRF patient education programs.  In 2016, he served as Co-Chair for the LRF North American Educational Forum on Lymphoma, the largest lymphoma-centric patient conference in the world, and the LRF Marginal Zone Lymphoma Scientific Workshop, the first-ever international multi-stakeholder scientific workshop of its kind.  He is also a member of the LRF Mantle Cell Lymphoma Consortium and received a Mantle Cell Lymphoma Clinical Studies Correlative Research Grant from LRF in 2007.  Dr. Habermann has been involved in many aspects of research in lymphoma with collaborations that include clinical trials, epidemiology, risk factors, new risk predictive models, and genomic studies.