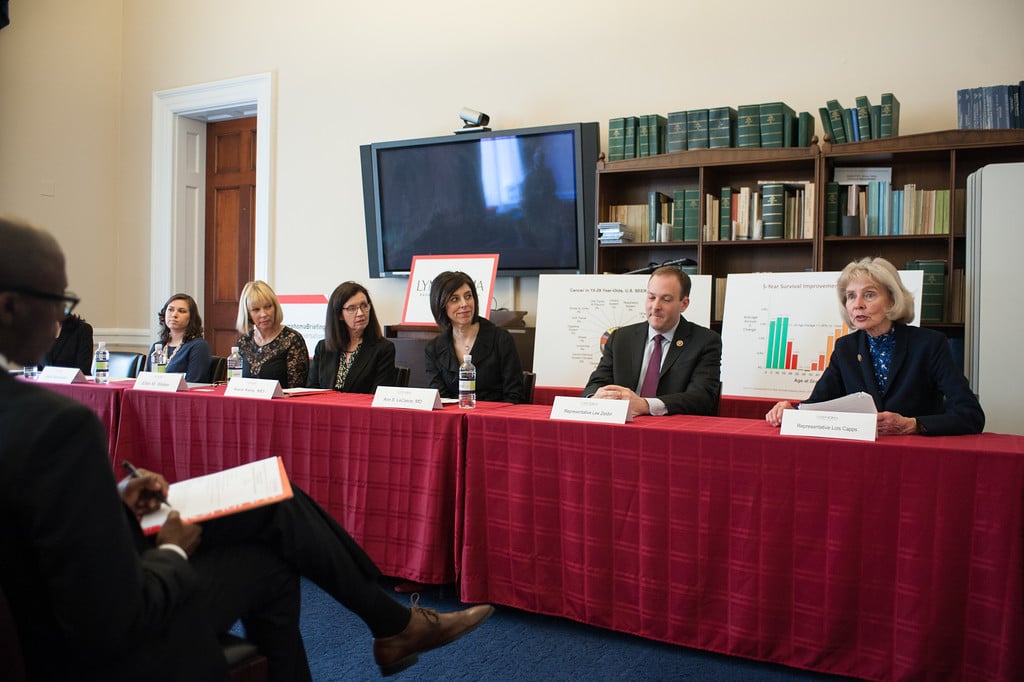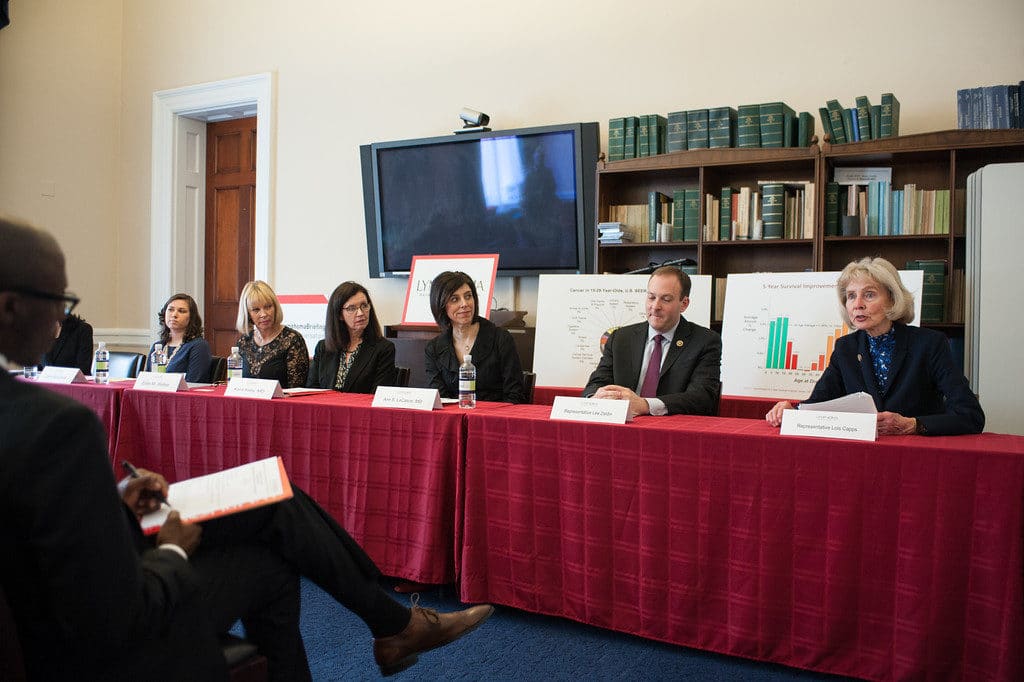 New York, NY (April 20, 2016) – The Lymphoma Research Foundation's Erase Lymphoma initiative hosted a successful briefing on Capitol Hill on Tuesday, March 22, 2016 for members of Congress and U.S. federal policy makers. The briefing entitled, "Tackling the Challenges of Adolescent and Young Adult Lymphoma" was held in collaboration with U.S. Representatives Lois Capps (D CA-24) and Lee Zeldin (R NY-1). The briefing was designed to educate policy leaders on the complex issues faced by young patients, caregivers, physicians, and scientists pursing new treatment options, with each group being represented on the panel.
Panel members included Representative Lee Zeldin; Representative Lois Capps; Ellen M. Walker, Chair of the Board, The Paul Foundation; Meghan Gutierrez, CEO, Lymphoma Research Foundation; Ann S. LaCasce, MD, Dana-Farber Cancer Institute, LRF Scientific Advisory Board Member; Kara Kelly, MD, Roswell Park Cancer Institute, LRF Scientific Advisory Board Member; and Justine Staniszewski, Hodgkin lymphoma survivor, Lymphoma Research Foundation Diplomat.
Dr. Kelly and Dr. LaCasce, who treat AYA patients in pediatric and adult oncology settings, respectively, spoke of the inherent difficulties in treating who may progress from pediatric to adult standard therapies during their treatment, and of the lack of research data available on how AYA patients' response to standard therapies may differ from older or younger patient populations. Ms. Walker, who founded the Paul Foundation to advocate for AYA lymphoma patients after losing her son to anaplastic large call lymphoma, and Ms. Staniszewski, a Hodgkin lymphoma survivor, discussed the difficulties AYA patients face in obtaining a timely diagnosis and navigating the healthcare system.
Congressman Lee Zeldin (NY-1) said, "Hosting a special Congressional briefing with the Lymphoma Research Foundation to help raise awareness to the unique needs of the adolescent and young adult lymphoma population is an essential and timely cause. In Congress, one of my highest priorities will always be funding research to provide the resources necessary to discover the next generation of treatment and deliver lifesaving or life improving cures."
The briefing was organized through the public policy and advocacy arm of the Erase Lymphoma initiative, which seeks to bring awareness to the concerns of AYA lymphoma through patient education, research funding and scientific programs, and advocacy efforts. In 2015, the initiative awarded its first AYA-focused research grant, and hosted both scientific and patient education symposia focused on AYA lymphomas during the North American Education Forum on Lymphoma in September 2015.