A lymphoma diagnosis can be challenging to cope with at any time, but the current pandemic has only increased stress, anxiety, and depression for many lymphoma patients. While at times this can all be overwhelming, there are many ways to manage this stress to help patients feel more at ease.
Clinical social worker Tammy Weitzman, LICSW of the Seattle Cancer Care Alliance, addresses the challenges of dealing with a lymphoma diagnosis with a special emphasis on the additional concerns of accessing treatment during a pandemic and managing anxiety and depression as a lymphoma patient.
Q: What are the mental health needs of lymphoma patients?
Adjusting to news of a lymphoma diagnosis can be an ongoing process. It's not unusual for you to experience many different emotions even throughout a single day. Many find that they experience feelings of shock/disbelief as if this isn't really happening to them. Feelings of anxiety, sadness/depression are very common. Worry about beginning treatment and fear of the unknown are commonplace. It is important to be able to validate a patient's experiences and feelings as well as normalize them in the context of this setting. Listening attentively to patients and offering prompt evidence based clinical interventions to help support patients and their loved ones through their journey can be immensely helpful to them.
Q: How has COVID-19 exacerbated the stress and anxiety that is often associated with receiving a lymphoma diagnosis?
During this pandemic, it remains important to have every possible resource accessible to help support you during this incredibly challenging time. For many people diagnosed with cancer, treatment continues as usual during the pandemic. Many are fearful of catching the virus and being compromised due to their already fragile immune system. News headlines can be debilitating.  COVID has significantly increased anxiety because the fear is that COVID can end one's life. Leaning into strategies such as Behavioral Activation and mindfulness stress reduction techniques can be very powerful and helpful. Practicing these interventions (anxiety reduction) helps balance anxiety, as you continue to learn to adapt to this pandemic in daily life. We have the control to be proactive in what exists in today, in the present moment. The ability to control outcomes has never belonged to us. Balancing the present moment with the future is where the work is.
Q: What are some tips and exercises that lymphoma patients can do to manage this stress?
Many patients with lymphoma and other cancers find it helpful to engage in mindfulness-based strategies and activities to cope with and manage the demands of their illness. Yoga, Tai chi, breathing techniques. Tapping into the common meditation apps such as headspace, Breathe and Insight timer have helped many patients manage their distress.
Q: What can family members, friends, and caregivers do to help ease lymphoma patients' anxiety and depression during COVID-19?
One of the most effective strategies for many of my patients has been to utilize technology (Zoom, FaceTime, etc.) with their loved ones. This increases connection and decreases the sense of isolation for many patients who are stuck at home or in the hospital.
Q: Caregivers also experience a unique set of challenges and stress during their loved ones' care.  What are some things they can do to manage stress?
Caregivers often rush through the caregiver role without the ability to care for themselves.  They need to remember several logistics in their head and are often the point of contact for patients. It's helpful for caregivers to consider the following tips:
Be mindful of your pace. Slow down!

Engaging in meditation relaxation-based strategies can be of enormous benefit

Check-in with yourself daily

Appreciation for positives in life – 3 good things

Find pockets of restorative time—start with ten minutes a day and build from there

Offer yourself compassion and permission to set clear boundaries for yourself
Q: What mental health resources are available for lymphoma patients, survivors, and caregivers to help them during this difficult time?
I encourage patients, survivors, and their loved ones to ask their healthcare teams what mental health resources are available to them at their treatment centers. They often offer free resources to their patients to help them along their journey. There are also several other organizations that offer services to individuals who have been impacted by cancer, including the National Alliance for Caregiving, where patients and their loved ones have access to clinical social workers who can provide individual/family supportive counseling and offer resources in their local community.
Watch LRF's archived webinar "Living Beyond Lymphoma: Mindfulness" to learn more about managing stress and your emotional well-being.
About the Author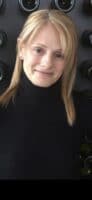 Tammy Weitzman, LICSW is a clinical social worker at the Seattle Cancer Care Alliance in Seattle, Washington. She has been a recognized leader in clinical social work for more than 19 years in the field of hematology/oncology and allogenic bone marrow transplantation. Her experience includes clinical care, program development, and consultation, specifically as it pertains to lymphoma patients. She also has a special interest in working with patients living with graft versus host disease following allogeneic transplantation.