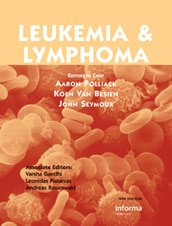 The Lymphoma Research Foundation is proud to announce a new partnership with Leukemia & Lymphoma, an international peer-reviewed journal with worldwide print and electronic distribution that publishes articles around key findings in clinical, translational and scientific research relating to hematological malignancies.
In April 2019, Leukemia & Lymphoma launched an LRF Lymphoma Rounds series within the publication, which features selected case presentations from the Foundation's live Lymphoma Rounds national program series. The Lymphoma Rounds program provides a forum for local healthcare professionals to meet on a regular basis and address issues specific to the diagnosis and treatment of their lymphoma patients. Participants network, share best practices and learn the latest information on new therapies and advances in the management of lymphoma through interactive case studies presented by lymphoma experts in the local area.
Each Lymphoma Rounds case that is published in Leukemia & Lymphoma is reviewed by New York Lymphoma Rounds Steering Committee members Dr. Morton Coleman, who is a member of LRF's Scientific Advisory Board and Board of Directors, and Chair of LRF's Medical Affiliates Board; and Dr. Koen van Besien, one of the editors-in-chief of the journal, both from Weill Cornell Medicine.
The first published case focused on T-Cell Prolymphocytic Leukemia and was presented at LRF's New York Lymphoma Rounds program by Dr. Alexandra Gomez and Dr. Koen van Besien from Weill Cornell Medicine. Learn more, including access to the first Lymphoma Rounds article and information on the journal's Editorial Board, which includes members of LRF's Scientific Advisory Board.
This is an exciting opportunity for Lymphoma Rounds case presentations to potentially be included in a future edition of the publication.
In-Person Meetings for Healthcare Professionals:

Lymphoma Rounds
The Lymphoma Rounds program provides a forum for local healthcare professionals to meet on a regular basis and address issues specific to the diagnosis and treatment of their lymphoma patients. Participants network, share best practices and learn the latest information on new therapies and advances in the management of lymphoma through interactive case studies presented by lymphoma experts in the local area.  Learn more >