Researcher Spotlight
Researcher Spotlight: Niloufer Khan, MD, MS
Memorial Sloan Kettering Cancer Center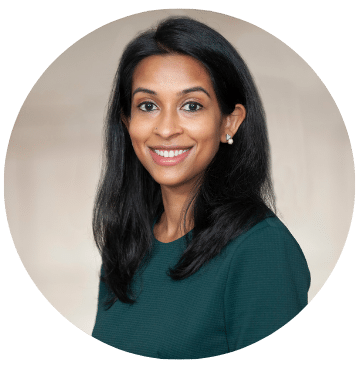 Cutaneous T-cell lymphoma (CTCL) is a type of skin lymphoma usually managed as a chronic disease without a standard frontline therapy, and treatment plans typically vary from patient to patient. Patients with CTCL may experience itching, pain and swelling, and cosmetic changes, which profoundly affect their quality of life.  Clinicians often informally use changes in patient symptoms when deciding whether to continue or change therapy.  Despite the significant symptom burden experienced by patients with CTCL, and the clinical importance of patient symptoms in planning treatments, patient-reported outcomes (PROs) are not formally evaluated as a measure of treatment response.  Dr. Niloufer Khan's LRF research project is to understand how patient symptoms, as measured by PRO instruments, can be incorporated into disease response criteria for CTCL.  "My long-term goal is to incorporate measurement of PROs into the staging of CTCL, so we can better understand how our treatments affect our patients' quality of life," Dr. Khan explains.
Dr. Khan is currently a Medical Oncologist at Memorial Sloan Kettering Cancer Center.  Her interest in lymphoma began during her first year of medical school at Case Western Reserve University School of Medicine.  "I loved the opportunities for research and for building critical connections with patients during such a formative period of their life," Dr. Khan shares.   After completing an Internal Medicine/Pediatrics residency at the University of Chicago Hospitals, she developed a particular interest in adolescent and young adult oncology. "We are getting closer to providing a cure or long-term control for many lymphomas," says Dr. Khan.  "As we improve disease control, there is a real opportunity for understanding patient-reported symptoms and short-term toxicities of treatment and enhancing quality of life for cancer survivors, particularly for adolescents and young adults."  As a fellow and now attending physician at Memorial Sloan Kettering Cancer Center, Dr. Khan – mentored by Dr. Alison Moskowitz and LRF SAB member Dr. Steven Horwitz – continues to explore her interest in PROs and toxicities within the field of CTCL.  "Drs. Horwitz and Moskowitz are exceptional mentors.  Every clinician and research associate in the T-cell research program is inspired by their dedication to going above and beyond for our patients, and I'm honored to be part of that team."
Over the next decade, Dr. Khan plans to continue her research efforts to understand toxicities and patient-reported outcomes for novel agents and improve cancer care delivery for patients with rare lymphomas.