Researcher Spotlight: Patrick Reville, MD
THE UNIVERSITY OF TEXAS MD ANDERSON CANCER CENTER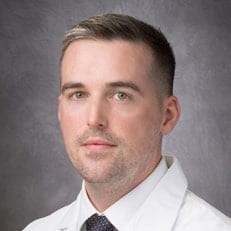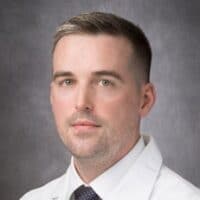 Relapsed or refractory large B-cell lymphoma (LBCL) are aggressive forms of lymphoma associated with poor long-term outcomes. Chimeric antigen receptor (CAR) T cell therapies targeting CD19, engineered to direct the patient's own T cells to attack lymphoma cells, have shown promise in this setting, but many patients do not respond to therapy or experience diminishing responses over time due to loss of CD19 expression on tumor cells. Through his LRF research, Dr. Reville is working to develop a novel CAR T cell therapy targeting a unique receptor (CD38) on the surface of lymphoma cells. "Our project aims to use new therapies to both improve the quality of the T cells and prevent the lymphoma cells from relapsing with loss of the CD19 antigen," he says.
Dr. Reville is currently a Hematology and Oncology Fellow at The University of Texas MD Anderson Cancer Center. He earned his MPH from The Ohio State University before pursuing his MD at Baylor College of Medicine in Houston. He first became interested in the field of oncology during his time in graduate school, where he was able to shadow and mentor in the oncology clinic. "Seeing the relationships that he built with his patients and the lasting impact he was making on their lives was the calling I needed to hone my career path," he says. "Since that moment, every career and research decision I have made was in the hopes it would take me one step closer to becoming an oncologist."
Leveraging his experiences from his LRF research, Dr. Reville hopes to become an independent physician-scientist leading his own research group. "I hope to be in a position where I am leading a diverse team of dedicated individuals tackling difficult and critical questions that will advance our understanding of hematologic malignancies and improve the lives of patients with lymphoma," he says. Dr. Reville is excited by novel therapies that have emerged in the lymphoma treatment landscape but emphasizes that there is more work to do to improve the treatment experiences of all patients with lymphoma.

Dr. Reville is also a 2022 LRF Scholar through the Lymphoma Scientific Research Mentoring Program for this research project.