Researcher Spotlight: Patrizia Mondello, MD, PhD
MAYO CLINIC, ROCHESTER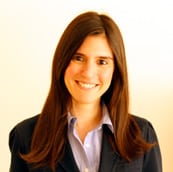 In most cases, follicular lymphoma (FL) is a slow-growing cancer associated with favorable outcomes. Some patients experience a more aggressive disease course, though, characterized by early relapse and poor outcomes. Crosstalk between healthy immune cells and malignant B cells may have important implications in the clinical course of FL, but these interactions are poorly understood. Dr. Mondello's research, therefore, aims to understand how tumor cells evade the immune system and identify immune cells that can support disease control in unfavorable subsets of FL. "This work will fill an unmet need to understand the interactions between tumor and immune cells and identify novel therapeutic vulnerabilities," she says.
Dr. Mondello earned her medical degree from the University of Messina in Italy and her PhD through Memorial Sloan Kettering Cancer Center (MSKCC) in New York. She has completed medical and research fellowships at University of Messina, MSKCC, and Weill Cornell Medicine in New York, NY, and is currently an advanced fellow at the Mayo Clinic in Rochester, MN. She hopes to leverage her clinical and research experiences to support a career as an independent investigator and clinician studying medical oncology, with a focus on understanding the molecular processes that regulate immune responses and hematologic cancers. "I believe that further understanding of aberrant epigenetic programming will lead to the identification of more powerful and less toxic targeted treatments for patients with lymphoma," she says.
Dr. Mondello's passion for lymphoma research comes from her experiences with a young patient early in her career. Her patient was diagnosed with an aggressive form of lymphoma that did not respond well to any available treatments. "While I enjoy caring for patients with cancer, I am often frustrated with cases like [hers] where patients would fail multiple lines of therapy, and I had nothing more to offer them," she explains. With the support of the LRF Career Development Award, Dr. Mondello will continue working toward her goal of understanding key mechanisms in lymphoma biology that can be exploited by novel therapeutics. "I have always desired to get the best training in the field of oncology with the hope to make a major impact in the lives of my patients."
Dr. Mondello is also a 2021 LRF Scholar through the Lymphoma Scientific Research Mentoring Program.