Researcher Spotlight
Researcher Spotlight: Gita Thanarajasingam, MD
Mayo Clinic, Rochester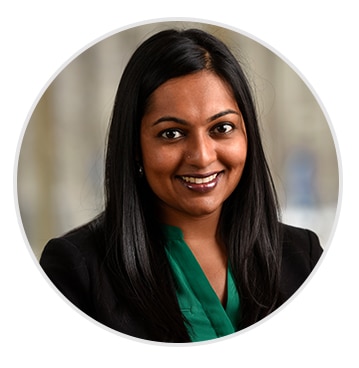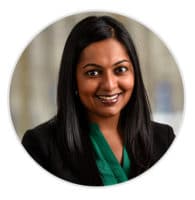 Dr. Thanarajasingam's LCRMP project proposes a new way of looking at side effects (toxicity) of lymphoma therapies. Many standard lymphoma treatment plans now include therapies that are taken continuously over long periods of time, often with varying levels of toxicity. "Current reports of toxicity in lymphoma clinical trials emphasize severe toxicity, and overlook less life-threatening but more persistent side effects that can affect a patient's quality of life," Dr. Thanarajasingam notes. Her LCRMP project proposes an approach that analyzes toxicity by profiling not just what side effects occur and their severity, but the frequency and duration of those side effects. "When we more fully understand side effects, we can anticipate and manage them, and improve the experience of patients on lymphoma treatments."
Currently an Advanced Fellow in Lymphoma and Assistant Professor of Medicine at Mayo Clinic, Rochester, Dr. Thanarajasingam became interested in blood cancers as a medical student at Mayo, before her residency at Brigham and Women's Hospital/Harvard University. "My research in lymphoma is focused on the patient, and how we treat the disease with as much efficacy and as little toxicity as possible," she notes. "Finding better ways to capture and report side effects will improve lymphoma clinical trials, which are the route to better treatments for lymphoma." As an LRF Scholar, Dr. Thanarajasingam is looking forward to the opportunity to develop as a clinical investigator and work with the nationally renowned researchers who make up the LCRMP faculty. "The funds and mentorship provided as part of the LCRMP will help me understand clinical trial design better so that I find the best way to apply this unique project to lymphoma clinical studies. Additionally, the opportunities for networking and collaboration among senior clinicians, investigators and biostatisticians in lymphoma will help me shape this project into a career niche focused on patient-centered clinical trials with comprehensive, accurate toxicity evaluation," she says.
In addition to the strong support of her institutional LCRMP mentor, Dr. Thomas Witzig, this year's program fostered a connection between Dr. Thanarajasingam and Dr. Lindsay Morton (SAB member), who became Dr. Thanarajasingam's LCRMP mentor. "She intuitively understood my vision of better toxicity assessment in lymphoma trials, and was able to help me not only improve the proposed project, but define a path to achieving my research goals in this early phase in my career. " Dr. Thanarajasingam also notes that LCRMP co-chair Dr. Christopher Flowers has become an important mentor in lymphoma outcomes clinical research. "I feel particularly fortunate that I have gained two committed mentors outside of my institution who formally support my research efforts, in addition to the many distinguished faculty I met at the LCRMP."
Dr. Thanarajasingam is inspired by her patients, and the variety of their experience. "Patients with lymphoma are young and elderly and every age in between. Their disease can be aggressive, requiring immediate and life-saving therapy, or indolent, requiring careful observation and restraint. Each patient in each room is as distinct as the biology of their cancer," she says. "I am inspired on a daily basis by the strength, resilience and determination of my patients and their families. They are the reason I endeavor to improve outcomes in this disease."
As novel treatments have increased survival rates and shifted many treatment paradigms for lymphoma, the need to better understand and incorporate real-world patient reported outcomes has been magnified.  As a result, Lymphoma Research Foundation Scientific Advisory Board chair, Thomas Haberman, MD (Mayo Clinic, Rochester) and LRF grantee, Gita Thanarajasingam, MD (Mayo Clinic, Rochester) recently published a study in the prestigious online journal, The Lancet Hematology, that analyzes how current methods of reporting adverse events to therapies often fail to identify certain long-term effects that can significantly impact patients' lives post-treatment. Read more about this study, click here.