Researcher Spotlight: Jonathan Schatz, MD
University of Arizona Cancer Center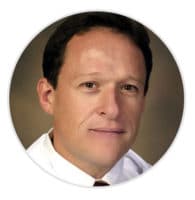 The Lymphoma Research Foundation (LRF) established its Clinical Investigator Career Development Awards (CDA) to facilitate early career clinical scientists in establishing themselves as independent investigators in lymphoma research. Dr. Schatz, a 2011 CDA grantee and a recent recipient of an R01 grant from the National Cancer Institute (NCI), is one of the success stories of LRF's CDA program.
Dr. Schatz, an assistant professor of medicine at the University of Arizona Cancer Center, received his LRF CDA while an Instructor at Memorial Sloan-Kettering Cancer Center for a project seeking to counteract resistance to the class of therapies known as mTOR inhibitors in non-Hodgkin lymphoma, particularly diffuse large B-cell lymphoma (DLBCL) and follicular lymphoma (FL). Dr. Schatz and his colleagues demonstrated that, when mTOR inhibitors were given to a patient, lymphoma cells could escape the inhibitor's effects through a different signaling pathway known as the Pim family kinases; by blocking both pathways at the place where they intersect, the researchers were able to improve patient outcomes. "We continue to work in this area, looking both at drugs that directly target the protein translation process, which is especially activated in lymphomas, and also drugs that target the upstream molecular events that activate it," Dr. Schatz says.
In addition to continued investigation into targeting protein translation in lymphoma, Dr. Schatz's lab investigates a number of other projects. Research into common genetic markers in the peripheral T-cell lymphoma – not otherwise specified diagnosis (PTCL-NOS) was recently published in Leukemia. Dr. Schatz and his colleagues demonstrated that some genetic mutations in PTCL-NOS are similar to other kinds of PTCL, while other recurrent genetic mutations appear to be unique to PTCL-NOS. "Research in PTCL-NOS is difficult due to many factors," Dr. Schatz says. "Our work provides a step towards helping better understand it, but much more work is needed."
In 2014, Dr. Schatz was awarded a prestigious and highly competitive R01 grant from the National Cancer Institute (NCI) for a project investigating drug resistance in anaplastic large cell lymphoma (ALCL) and other cancers in which the anaplastic lymphoma kinase (ALK) is the primary oncogene (a gene directing cancerous cell growth). Despite the logical conclusion that ALK-inhibiting drugs would be effective in ALCL and other ALK+ cancers, ALK-inhibitors have been less effective than hoped in the clinical setting. Dr. Schatz and his colleagues are seeking to improve their effectiveness by exploiting a phenomenon called "oncogene overdose." "When too much of the oncogene is expressed it can become toxic to the cancer cells when the inhibitor is taken away," Dr. Schatz says. He and his colleagues believe administering ALK-inhibitors intermittently will encourage the cells to destroy themselves through oncogene overdose, and make the ALK inhibitors more effective. The NCI grant will provide a total of 1.59 million dollars over the next five years for Dr. Schatz and his colleagues to continue studying this phenomenon and the most effective ways to implement intermittent therapy for ALK inhibitors.
Dr. Schatz received his MD from the University of Chicago School of Medicine, where he also completed his internship and residency, before an oncology fellowship at Memorial Sloan Kettering. Though Dr. Schatz was interested in laboratory research even before enrolling in medical school, his time in Memorial Sloan Kettering's lymphoma clinics convinced him to pursue that research in lymphoma. "The variety of lymphoma, with more than 50 types and subtypes, is like no other area of clinical practice in oncology," he says. During the course of his three year LRF grant, Dr. Schatz accepted his position at the University of Arizona, where he now has his own independent research laboratory, and was able to undertake the projects that resulted in his R01 award. "My CDA was a crucial demonstration to colleagues and prospective employers that I could bring in major grant support for my work from outside my institution," says Dr. Schatz. "The support itself gave my freedom to ask many different kinds of questions with the experiments I did in the lab." He advises early career researchers to collaborate with others, follow their instincts and be willing to take risks, and be patient and persistent. "It's a long, slow process but the rewards make it all worthwhile."
Dr. Schatz further notes that the emergence of effective inhibitor drugs in recent years, are "revolutionizing" the care of lymphoma, both those that are currently available to the public, such as ibrutinib and idelalisib, and those that are still under development, like those his lab is currently studying. "I believe these kinds of breakthroughs will make almost every lymphoma type either curable or long-term controllable with sequential treatments," Dr. Schatz says. "This is what really motivates my work on a day-to-day basis, because it shows so clearly how the data we generate with lab work leads to progress for the care of patients."
Dr. Schatz's paper on PTCL-NOS is available on the Leukemia website.