The Lymphoma Research Foundation (LRF) announced today that its premier fundraising event, the LRF Annual Gala, and patient education program, the North American Educational Forum on Lymphoma, will be held virtually in response to the continuing COVID-19 pandemic.  The LRF Gala will take place on Thursday, September 30, and the Educational Forum will take place from Friday, October 15, to Sunday, October 17.
"The health and well-being of the lymphoma community is our top priority, and we want to ensure that lymphoma patients, survivors, caregivers, and healthcare professionals continue to connect, learn and support the Foundation in a safe way during these events, which traditionally are convened indoors," said Meghan Gutierrez, Chief Executive Officer at the Lymphoma Research Foundation.  "We thank the expert members of the LRF Scientific Advisory Board, whose extensive research and experience caring for lymphoma patients and survivors during this unprecedented time guided this decision."
"People with cancer, whether in active treatment or previously treated, older patients, and people with other serious chronic medical conditions may be at higher risk should they contract COVID-19," said Sonali M. Smith, MD, Director of the Lymphoma Program at The University of Chicago Medicine and Chair-elect of the LRF Scientific Advisory Board (SAB).  "The use of COVID-19 vaccines brings promise for a safer future; however, our decision to host our largest indoor fundraising event and educational program virtually will ensure the safest way for the lymphoma community to come together, raise funds for life-saving lymphoma research and receive the latest information on lymphoma treatment and research from experts across the country."
The LRF Annual Gala is the Foundation's preeminent fundraising event, bringing together supporters, the healthcare community, and advocacy and corporate leaders to celebrate LRF's distinguished honorees and be inspired by the significant achievements and advancements made in lymphoma research and patient care.  This year, the 2021 LRF Annual Gala will close out the Foundation's 25th anniversary and will focus on the path ahead to finding cures for lymphoma. To learn more about the LRF Annual Gala, visit lymphoma.org/gala.
The LRF North American Educational Forum on Lymphoma is the most extensive patient-centric lymphoma education program globally and the accessibility of the virtual 2020 Educational Forum had a demonstrable impact on the lymphoma community.  The two-and-a-half-day annual program provides critical information on lymphoma treatment options, patient support issues, clinical trials, and the latest advances in lymphoma research to people with lymphoma and their loved ones.  To learn more about the Ed Forum, visit lymphoma.org/edforum.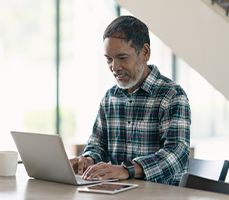 Visit the COVID-19 Learning Center
Recognizing that members of the lymphoma community may require additional education materials and services at this time, LRF encourages lymphoma patients, survivors, and their loved ones to contact the LRF Helpline at 800-500-9976 or helpline@lymphoma.org or visit the COVID-19 learning center for access to COVID-19 and vaccine information, resources and support services. Learn More >