Latest News
Ask the Doctor: There are several therapies now approved for relapsed/refractory DLBCL. What is a good way to determine which are the best options for me?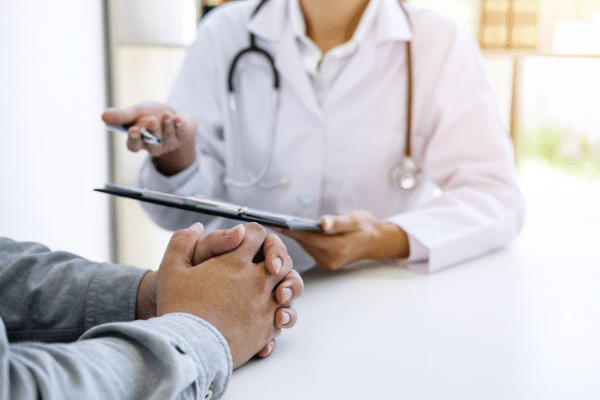 The term "relapsed" refers to disease that reappears or grows again after a period of remission. The term "refractory" is used to describe when the lymphoma does not respond to treatment (meaning that the cancer cells continue to grow) or when the response to treatment does not last very long.
For many patients, the initial treatment is effective and DLBCL does not return after treatment; however,
for patients in whom the disease becomes relapsed or refractory, secondary therapies may be successful. There are several therapies approved for the treatment of relapsed/refractory DLBCL and secondary treatments are often determined by a multitude of factors. LRF grantee Jason Romancik, MD of the Winship Cancer Institute discusses these treatment options and what factors patients should consider when deciding what's right for them.
There are several therapies now approved for relapsed/refractory DLBCL. What is a good way to determine which are the best options for me?
Deciding whether a patient is eligible for curative intent therapy is one of the first steps when choosing a treatment for relapsed/refractory DLBCL. Salvage chemotherapy followed by autologous stem cell transplant has been used for many years to treat patients with relapsed/refractory DLBCL, and this remains the standard treatment approach at time of first relapse. This maneuver is still a good option for many patients, and it does offer a second chance to cure the disease. While unfortunately there are still patients who relapse after the transplant, we now have CAR-T cell therapy available for people in this situation. CAR-T can result in long-term remissions in 30-40% of patients and is potentially curative for some. Outside of clinical trials, CAR-T is currently available to patients with relapsed or refractory DLBCL after 2 or more lines of systemic therapy. However, there are ongoing trials looking at these products in earlier lines of therapy, and these results may change how therapies are sequenced in the future. No head-to-head comparisons of the 3 FDA approved CAR-T cell products have been conducted, and there is currently no data to suggest that one product is safer or more effective than another.
Treatment options are generally not considered curative for patients who relapse after autologous transplant and CAR-T and for those unable to safely undergo these therapies due to organ dysfunction or coexisting medical problems. However, newer agents like polatuzumab vedotin, tafasitamab, and loncastuximab can be well-tolerated, provide meaningful clinical benefit, and prolong survival. Determining the best therapy to use requires careful consideration of individual patient/disease characteristics and side effect profile of each therapy. For example, polatuzumab vedotin can cause peripheral neuropathy and loncastuximab can cause issues with fluid retention, so patients who have one of these issues at baseline may need to start treatment with an alternative agent. Tafasitamab and loncastuximab both target a cell surface protein called CD19, which is the same target for current CAR T-cells, so people who have already been treated with 1 or more of these therapies – or those who have documented loss of CD19 on a biopsy – may benefit more from using an agent with a different target or mechanism of action. Patients need to take all these factors into consideration with guidance from their doctor in order to determine the best option. The goal here is to balance treatment efficacy and tolerability in order to maximize survival and quality of life, and the best option to achieve this may differ from patient to patient.
Lastly, newer therapies such as bispecific T-cell engagers (BiTEs) are showing promising results in preliminary studies, and there are ongoing efforts to improve the safety and efficacy of CAR T-cells and other cellular therapies. The results of ongoing trials will hopefully further expand treatment options and improve outcomes for patients with relapsed/refractory DLBCL. Asking about clinical trial availability at any point when dealing with this disease is always a good idea.
This DLBCL eUpdate is supported by an unrestricted grant from Bristol Myers Squibb.
Download the Diffuse Large B-Cell Lymphoma Fact Sheet
LRF is committed to providing those impacted by lymphoma with the resources they need to understand their disease. To ensure that patients and their loved ones make the most informed decisions about their care, the Foundation developed a comprehensive fact sheet about DLBCL.