Latest News
Caregiver Perspectives: Managing The Responsibilities of Caring for a Loved One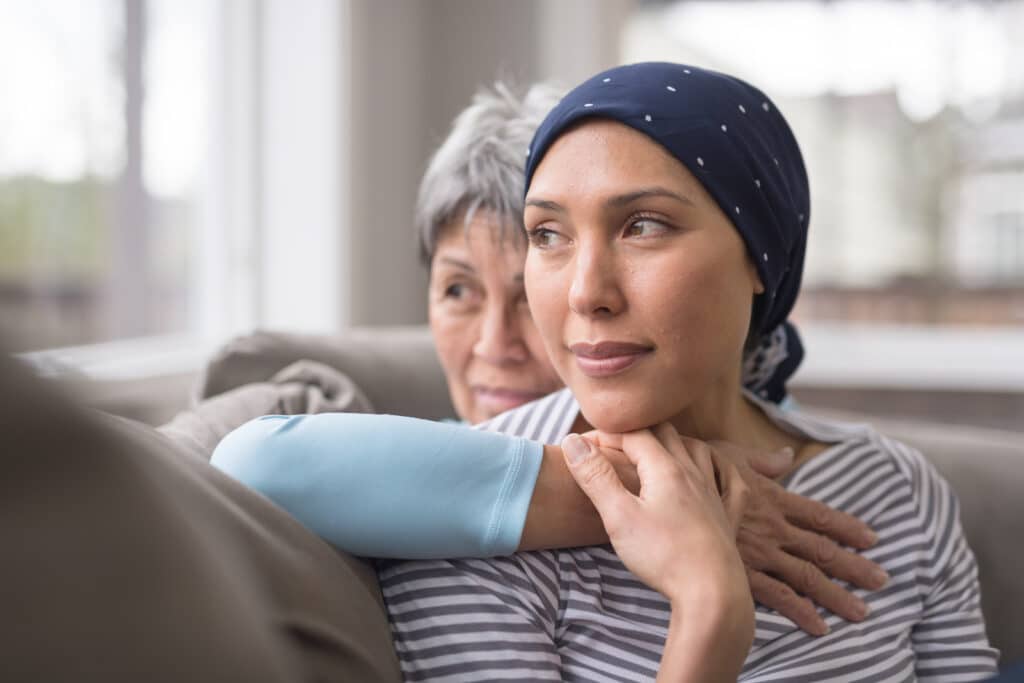 A lymphoma diagnosis not only affects the patient; it affects their caregivers too. Caregivers are relatives, friends, partners or anyone who has a significant relationship with the patient and is an essential extension to the patient's healthcare team. While being a caregiver can often be a rewarding experience, it can also be a very challenging one. Responsibilities of caregivers may vary but can range anywhere from attending doctor visits, keeping track of medication, providing transportation to treatments, assisting with childcare responsibilities and providing emotional support. While it seems counterintuitive, often a diagnosis of cancer is harder on the caregiver than it is on the patient itself.
According to a study published by the National Alliance for Caregiving, cancer caregivers spend an average of 32.9 hours a week providing care to their loved one. As a result, caregivers reported experiencing increased anxiety, depression, fatigue and other emotional stress—with more than 50 percent of caregivers rating their stress level as "highly stressed."
For over 36 years, Lymphoma Research Foundation (LRF) Scientific Advisory Board member, Thomas M. Habermann, MD, of Mayo Clinic, Rochester, has witnessed the impact that caregivers have on lymphoma patients' journeys and the often-overwhelming emotional toll it can have on them. He shares some helpful strategies on how to help cope with some of the pressures of caregiving.
BEING AN EFFECTIVE CAREGIVER
Caregivers provide support and encouragement for patients and are essential to their journey. The most important thing you can do is show up and be present. By doing this, you will feel more empowered to be an advocate for your loved ones to help them make the best decisions about their care. The more you are ingrained in the process, the more helpful you can be overall.
Use LRF's free educational resources to get educated about lymphoma.
Prepare questions to ask the doctor prior to appointments.
If permissible, attend doctor's appointments.
Be on time to appointments.
Take detailed notes during appointments.
Assist with insurance-related issues.
Facilitate resilience strategies:

Communication
Walks
Exercising
Reading materials
Hobbies
SEEK SUPPORT AND ACCEPT HELP
Just as much as patients need a support system, so do caregivers. Remain connected with family and friends who can offer support and help you when you are feeling overwhelmed. While it can often feel like the weight of the world is on your shoulders, it is crucial to take breaks and allow others in your community to utilize their skills and assist in the caregiving process. There are also several resources that you can utilize for support.
Join LRF's Lymphoma Support Network to get matched with a caregiver who can offer support and words of encouragement.
Ask the patient's healthcare team if their institution offers emotional support groups for caregivers.
Network with other patients, family and friends.
Seek professional help if needed.
MANAGE STRESS AND PRACTICE SELF-CARE
It is important to remember that to take care of others, you must first take care of yourself. Practice self-care to support both your emotional and physical needs. It may be difficult to take time for yourself, especially if you are someone's sole caregiver, but by setting aside time just for you, you will find that you can avoid caregiver burnout and be more effective in the long run.
Get enough sleep.
Practice healthy eating habits.
Go for a walk to clear your mind.
Find time to exercise to relieve stress.
Journal your feelings.
Maintain hobbies to relax and unwind.
Communicate with physicians and healthcare team.

STAY HOPEFUL
While learning your loved one has cancer is never easy, advances in lymphoma research continue to improve the way people are diagnosed with and treated for lymphoma, and mortality rates have decreased dramatically over the past 25 years, especially within the last decade. With the help of organizations like LRF, we will continue to see improvements in patient care, outcomes and ultimately find cures for this blood cancer.
Understanding Caregiving and Lymphoma
New Understanding Caregiving and Lymphoma Fact Sheet now available.