These recipes were contributed by Oncology Dietitian and Clinical Exercise Physiologist, Hannah Manella, MS, RD, LDN, ACSM-CEP, CET (Rush University Cancer Center).
Meal 1: Savory Oatmeal
INGREDIENTS (makes 4 servings)
2 Tbsp olive oil
½ yellow onion, chopped
1 cup mushrooms, chopped
2 cups spinach
1 cup oatmeal
2 cups chicken or vegetable broth (or 2 bouillon cubes dissolved in 2 cups water)
1 tsp black pepper
4 eggs
½ cup Parmesan cheese, divided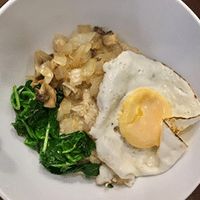 DIRECTIONS
Heat oil in a medium skillet. Add onion and mushrooms. Cook; stirring occasionally, about 3-4 minutes or until soft. Stir in spinach and cook until leaves are wilted, about 1-2 minutes.
Stir in oats; cook 1 minute. Add broth and bring to a boil. Reduce heat, and simmer, stirring often, until oats are tender (1 minute quick oats, 8 minutes old-fashioned). Remove from heat.
Top with cooked egg, cheese, and black pepper.
Meal 2: Mexican Rice Casserole
INGREDIENTS (makes 6 servings)
1 Tbsp olive oil
1 small onion, diced
1 tsp chili powder
1 tsp paprika
1 tsp oregano
1 bell pepper, cored and diced
½ (4 oz) can diced green chilis, drained
1 cup corn kernels, canned or frozen and defrosted
1 (15 oz) can black beans, drained and rinsed
1 (15 oz) can diced tomatoes, drained
1 cup cooked brown rice
½ cup shredded cheese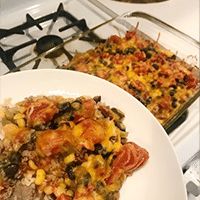 DIRECTIONS
Start by warming the oil in a large skillet over medium heat. Add the onion and cook for 3 minutes, until soft. Add spices and stir together. Continue to cook for another 2-3 minutes.
Next add in the red pepper and green chilies and cook for another 2-3 minutes. Then add the beans, corn, tomatoes, and rice. Stir everything until well-combined.
If skillet is not oven-safe, transfer mixture to a greased baking dish. Turn the oven to broil and top the mixture with shredded cheese. Place in oven and cook for 3-5 minutes until the cheese is golden and bubbly on top.
Serve warm. Optional toppings: fresh cilantro, plain Greek yogurt, avocado, and salsa.
Snack: Vegetables with Hummus
Vegetables (i.e. Pre-cut cucumber, celery, and carrots)
¼ cup hummus
Learn More: Read Hannah's article on Tips for Healthy Eating While Social Distancing 
About the Author
Hannah Manella is an Oncology Dietitian and Clinical Exercise Physiologist at Rush University Cancer Center in Chicago. Hannah works to improve lifestyle behaviors of individuals during and after cancer treatment. Specifically, she focuses on providing individuals with the tools to make personalized behavior changes for long-term success.