Latest News
Curiosity in Pursuit of a Cure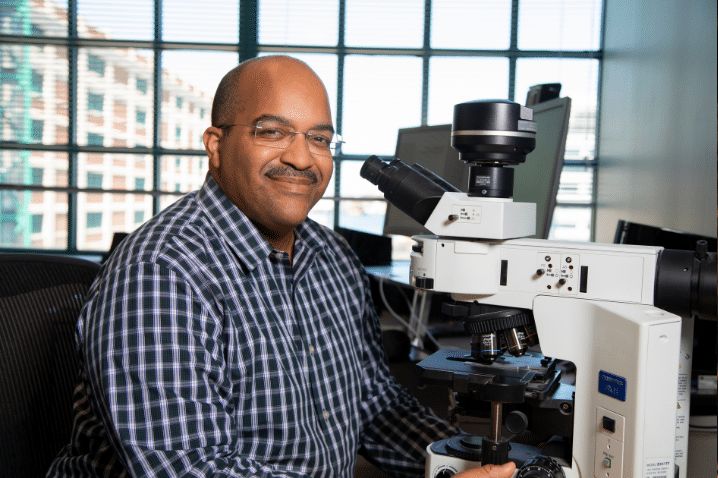 Lymphoma Research Foundation (LRF) grantee and
Abner Louissaint Jr., MD, PhD Director of Hematology at Massachusetts General Hospital (MGH) and Associate
Professor of Pathology at Harvard Medical School, has always been interested in studying and classifying things. In
fact, one of his earliest memories as a child was sighting and categorizing local birds and insects in the fields in and around Long Island, New York, where he spent his formative years. His inquisitiveness followed him through his adult years and was a catalyst for his desire to pursue a career in the study of lymphoma as a pathologist and investigator.
CULTIVATING CURIOSITY
Growing up, Dr. Louissaint's parents always encouraged him to follow his dreams and be the best he could be—
something he says has guided him throughout his career to date. He knew early on that he wanted to pursue a career
in medicine due to a desire to both take care of others and make an impact on treatment for patients. However, it was during a high school summer research program at Villanova University that he learned about the career of the physician-scientist, and he knew immediately that was what he wanted to be.
After attending Washington University in St. Louis, with a focus in biology and English literature, Dr. Louissaint pursued an MD/PhD in the Weill Cornell Medical College/The Rockefeller University/Memorial Sloan Kettering Tri-Institutional MD-PhD Program, where he earned a PhD in neuroscience, studying the biology and underlying brain plasticity in songbirds.
While in medical school, Dr. Louissaint's favorite medical school classmate, study partner—and future wife—suggested
he try a rotation in pathology at Cornell, and that's when everything clicked.
"During that pathology rotation, I discovered a connection and a passion that surpassed my experiences in all the other areas of medicine I had tried up until then," said Dr. Louissaint. "I love the diagnostic aspect of medicine, and pathology focuses on the diagnostic problem and solving the mystery of identifying the disease—from that rotation on, it was pathology for me."
Dr. Louissaint completed his residency in anatomic and clinical pathology and subsequently his fellowship in hematopathology at MGH in Boston. Upon completion of his fellowship at MGH, Dr. Louissaint joined the MGH Pathology faculty as a hematopathologist. He simultaneously initiated an independent research program with the mentorship of and collaboration with Dr. David M. Weinstock at the Dana-Farber Cancer Institute. Dr. Louissaint has recently established his own laboratory at the MGH as part of the Molecular Pathology Unit, focused on modeling lymphoma and studying the genetics and pathogenesis of both indolent (e.g., follicular lymphoma) and more clinically aggressive B-cell lymphomas.
Aside from the science, Dr. Louissaint says that hematopathology—the study of cancers and other diseases affecting the blood cells and related solid tissues—allows for collaboration between him and several of his peers, which he finds exciting. "What I love about hematopathology— other than the fascinating images that you see under the microscope and the ability to integrate these images with other molecular data to solve the diagnostic mysteries of medicine—is that it requires a close communication with a team of oncologists, pathologists, and scientists, all thinking about each case in three-dimensional ways to come up with a diagnosis," he says. "I'm a people person, and it's these necessary interactions you have with the other members of the team on a daily basis that really drew me into the field."
"He talked about the immune system and how it needs to be tightly controlled," Dr. Sotomayor recalls. "He said one of the functions of the immune system is to fight infection, and there was emerging evidence that the immune system could one day fight cancer. Very few researchers were focusing on tumor immunology—it was a new frontier."
From there, Dr. Sotomayor embarked on a journey to confront challenges few have explored and sought to answer the most challenging questions in medical science.
CATEGORIZING FOLLICULAR LYMPHOMA
Dr. Louissaint's introduction to lymphoma research started with studying a common type of non-Hodgkin lymphoma (NHL) called follicular lymphoma (FL), when he was a junior faculty member. Typically, follicular lymphoma occurs in older patients around 60 to 70 years old, but as Dr. Louissaint was completing his fellowship, he encountered a number of follicular lymphoma cases that occurred in unusually young patients—children and adolescents. The younger patients that developed this type of lymphoma, however, had what appeared to be a higher grade or more aggressive type of lymphoma under the microscope. Interestingly, in children, unlike what is typically seen in adult-FL patients, the disease tended to remain localized to one lymph node and did not act like an aggressive lymphoma. Amazingly, they responded very well even with removal of just the involved lymph node.
"I began seeing in our consult material some cases of this type of lymphoma in patients who were 20 to 40 years of age, who were often treated with aggressive chemotherapy due to the more high-grade appearance under the microscope, which can sometimes lead to secondary morbidity," explained Dr. Louissaint. "I set out to try to discover how we can distinguish between the extremely benign set of follicular lymphomas that required no chemotherapy from similarly appearing high-grade follicular lymphoma, which required chemotherapy."
Dr. Louissaint and his team examined different clinical features, immune markers, and morphologic features and discovered that the lymphomas that appeared to behave well and could be cured without chemotherapy, lacked the typical chromosomal rearrangements and had more proliferating cells than seen in typical follicular lymphoma. These specific features appeared and at the same time, to predict the good behavior, whether it was in a child or in a 30-year-old. While the findings were promising, they were not enough to define a new subtype, which motivated Dr. Louissaint to try to better define the molecular features that would definitively separate these two types. What he discovered was that the follicular lymphomas that were well behaving did not have the mutations found in the typical follicular lymphoma. Instead, they had their own distinct mutations in genes of the mitogen-activated protein (MAP) kinase pathway.
These studies by Dr. Louissaint and others made it clear that pediatric-type follicular lymphoma was in fact a separate disease independent of age, and it is now considered a distinct disease in the WHO Classification. It also means that both children and adults with this disease can more easily be diagnosed, and it is now clear that chemotherapy is no longer indicated for these patients.
"The fact that our work was foundational to this discovery was particularly meaningful to me because I want to make discoveries that are going to impact patients," said Dr. Louissaint. "Now, when people are diagnosed with this disease, which we called 'pediatric type follicular lymphoma,' they are no longer being treated with aggressive chemotherapies. Most of the patients with this subtype are doing really well without chemotherapy, so it's incredibly rewarding to see it impact actual patients."
A CONTINUOUS SEARCH FOR A CURE
While this discovery was Dr. Louissaint's entry into the field, what keeps him motivated to do more is that there is still no cure for the traditional form of follicular lymphoma. Many patients with this disease can live with it for decades, but in some patients, it can be more aggressive and not responsive to chemotherapy. In other patients it will transform into a much more aggressive form of lymphoma called diffuse large B-cell lymphoma (DLBCL), which usually requires more intensive types of treatment.
"The problem is that even though the majority of patients do okay and can find ways to live with the disease, there's always this risk of it transforming," says Dr. Louissaint. "The issue is we don't fully understand the biology, and while we know well the mutations associated with follicular lymphoma, we still cannot predict which cases will transform at the time of diagnosis, and how this is happening. We have a long way to go!"
Following his discoveries with pediatric-type follicular lymphoma, Dr. Louissaint became even more focused on finding cures for typical follicular lymphoma and better therapeutic algorithms and predictive capabilities. This turned his attention to modeling lymphoma.
Dr. Louissaint feels that one of the roadblocks to understanding lymphoma is that there are still very few models to study. Typically, when studying something in medicine, you need a living model—either an animal model or a model in a culture dish. Until now, it's been extremely challenging to culture follicular lymphoma because of the number of cell types it contains. Similarly, there are few models of follicular lymphoma and none that contain all of the different combinations of mutations seen in human follicular lymphoma. This is what drove Dr. Louissaint to focus on developing a mouse model for lymphoma.
"One development I'm very excited about is that we've developed the first patient-derived xenograft (PDX) mouse model in which fragments of human lymphoma from surgical biopsies can be implanted and grown in immunodeficient mice," said Dr. Louissaint. "These models will help us test different established and novel therapies for individual follicular lymphomas, and understand which therapies work on which lymphomas, why, and develop biomarkers that can be used to predict what therapies may be effective on a case-by-case basis for future individual patients. We are using sequencing technologies in these models will help us understand the biology of follicular lymphoma and how the cancer cells interact with and depend on the normal immune cells within the tumor. Then perhaps we can learn ways
to target these dependencies. Ultimately, we hope this work will ultimately lead to potentially novel and better
therapies for follicular lymphoma."
Other areas of Dr. Louissaint's laboratory are focused on finding curative therapies for more aggressive lymphomas
and incurable lymphomas, such as ALK-positive large B-cell lymphoma and plasmablastic lymphoma, which are uncommon but highly aggressive and typically have a very poor prognosis.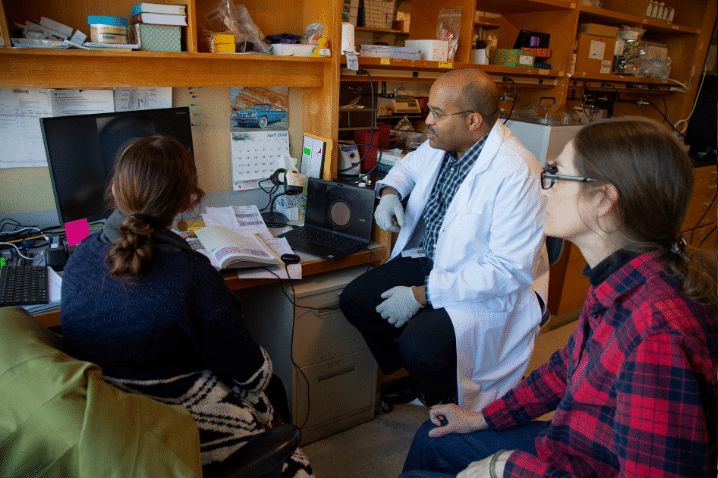 Dr. Louissaint recognizes that additional investment in research is crucial to his continuing to advance cures for lymphoma. He is grateful to organizations like the Lymphoma Research Foundation (LRF), which make it possible for him to continue his vital work through initiatives such as the Jaime Peykoff Follicular Lymphoma Initiative.
Established in 2020 through the generosity of the Peykoff Family and Niagara Cares, the Jaime Peykoff Follicular
Lymphoma Initiative is poised to transform the follicular lymphoma treatment landscape for tens of thousands of patients by harnessing the LRF's unique resources, convening the world's experts in follicular lymphoma research and patient care, and driving direct investment in clinical research.
Through this initiative, Dr. Louissaint is a 2022 LRF Follicular Lymphoma Priority Research Grant recipient and has been identified as part of the next generation of researchers poised to make a meaningful impact on lymphoma discoveries and treatments. Dr. Louissaint's LRF research project builds upon his work in developing models for lymphoma. Using these models, Dr. Louissaint's research is focused on understanding how lymphoma cells interact with the healthy cells around them. He hopes that unraveling these processes will help identify the mechanisms that promote lymphoma cell survival, identify new possible targets for therapeutic intervention, and illuminate why some cases of FL resist treatment.
"It's a great honor to be one of the first recipients of a Follicular Lymphoma Priority Research Grant among so many talented researchers," said Dr. Louissaint. "This initiative not only puts much-needed research money toward the study of follicular lymphoma, but it brings researchers together to encourage collaboration and mentorship, accelerating the pace of discovery to change patients' lives. I can do my work today only because of the strong mentorship I've received, and I stand on my mentors' shoulders as we continue to make new discoveries. And in turn, I feel a responsibility to pay it forward and mentor the next generation of researchers so that our collective discoveries continue and can be more and more impactful."
Read More Articles from Pulse
Pulse is a publication of the Lymphoma Research Foundation, providing the latest updates on the Foundation and its focus on lymphoma and chronic lymphocytic leukemia (CLL) research, awareness, and education