Latest News
LRF Welcomes Scientific Advisory Board Chair Sonali M. Smith, MD
LRF welcomes new SAB leadership and members Sonali M. Smith, MD of The University of Chicago (Chair); Ann S. LaCasce, MD, MMSc of Dana-Farber Cancer Institute (Chair-Elect); and Teresa Palomero, PhD of Columbia University (member)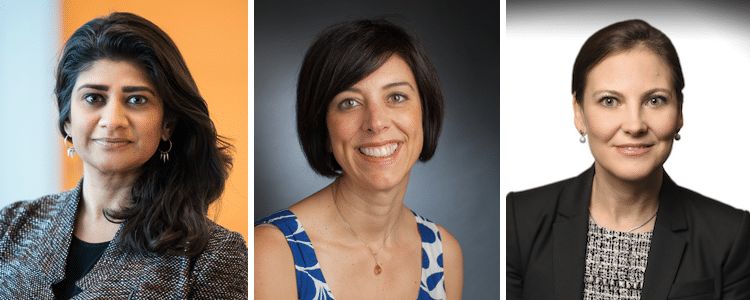 The Lymphoma Research Foundation (LRF) is proud to welcome Sonali M. Smith, MD as Chair of its Scientific Advisory Board (SAB). Comprised of 45 world-renowned lymphoma experts, LRF's SAB guides the Foundation's research activities, seeking out the most innovative and promising lymphoma research projects for support.
Dr. Sonali M. Smith is the Elwood V. Jensen Professor of Medicine, Section Chief of Hematology/Oncology, Co-Leader of the Cancer Service Line, and Co-Director of the Lymphoma Program at The University of Chicago in the Department of Medicine. She is a clinical investigator in lymphoma and a clinical expert in Hodgkin and non-Hodgkin lymphomas. As faculty member at The University of Chicago since 2001, she has over 200 publications in peer-reviewed journals and has written over 25 review articles on lymphoid malignancies. She is particularly interested in targeted agents and pathway inhibitors and has first and senior author publications through cooperative group trials and investigator-initiated trials. In addition to her role as SAB Chair, Dr. Smith has had many active leadership roles, including Vice-Chair of the SWOG Lymphoma Committee, immediate past-chair of the ASCO Communications Committee, and now Chair of the ASCO Annual Meeting Scientific Committee in 2021-2022. She has won numerous teaching awards and considers mentorship a key aspect of her career.
Dr. Smith assumes leadership of LRF's SAB from Andrew D. Zelenetz, MD, PhD, Medical Director of Quality Informatics at Memorial Sloan Kettering Cancer Center, whose term ended on July 1, 2021, in accordance with the SAB's governing principles and standards. Dr. Zelenetz will remain a member of the SAB and the Board's Executive Committee.
"I am honored to serve as Chair of the Lymphoma Research Foundation's prestigious Scientific Advisory Board," said Dr. Smith. "I'd like to thank Dr. Zelenetz for his visionary leadership, and I hope to continue this momentum through our shared pursuit of improving outcomes for lymphoma patients and moving the Foundation's research agenda forward."
Additionally, LRF is proud to announce that Teresa Palomero, PhD, Associate Professor of Pathology and Cell Biology in the Institute for Cancer Genetics at Columbia University, has been elected to the SAB. Dr. Palomero will join SAB members to review grant proposals, make recommendations regarding research priorities and funding to LRF's Board of Directors, evaluate the progress of ongoing research projects, and guide the strategic direction of the Foundation's research programs and consortia.
Ann S. LaCasce, MD, MMSc, Associate Professor of Medicine, lymphoma specialist, and the Director of the Dana-Farber/Partners CancerCare Fellowship in Hematology/Oncology at the Dana-Farber Cancer Institute, was also elected to the role of SAB Chair-Elect. She will assume the Chair role following the conclusion of Dr. Smith's term. The Lymphoma Research Foundation would also like to recognize outgoing SAB member Michael Williams, MD, ScM, University of Virginia Cancer Center, for his tireless efforts in the field of blood cancer research during their term. Dr. Williams will continue working with LRF as a SAB Member Emeritus.
"Under Dr. Smith's leadership and with the collective guidance of the Scientific Advisory Board, I am confident that the Foundation will continue to make significant progress on behalf of the entire lymphoma community," said Meghan Gutierrez, LRF Chief Executive Officer. "We thank all members of our Scientific Advisory Board for their enduring commitment to our mission of eradicating lymphoma and serving those impacted by this blood cancer."
For more information about the Lymphoma Research Foundation Scientific Advisory Board and research program, visit lymphoma.org/research.
The Lymphoma Research Foundation is committed to funding the most promising lymphoma researchers and advancing the understanding of the more than 100 different subtypes of lymphoma.  LRF's disease-specificity and hyper-focus on finding cures for every type of lymphoma ensure the next generation of cancer researchers dedicate their careers to studying lymphoma, and world-leading lymphoma experts collaborate and accelerate the pace of scientific discovery.