Latest News
Ride On! 15 Years of the Lymphoma Research Ride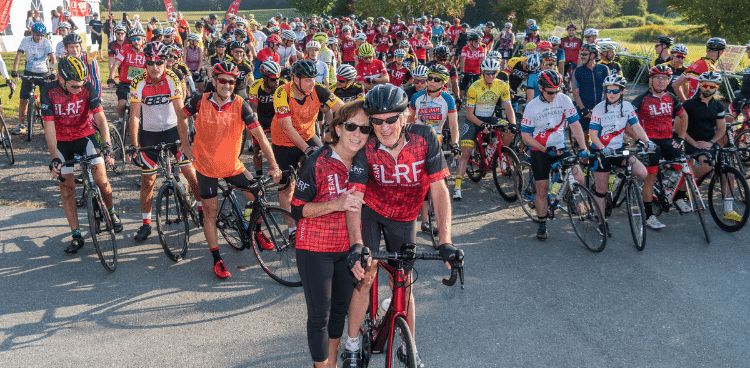 In 2007, LRF Scientific Advisory Board member and past Chair, Dr. Bruce Cheson (Johns Hopkins Medicine/Center for Cancer and Blood Disorders) alongside his wife Christine, founded the Lymphoma Research Ride to give back to his patients, the medical community and raise funds to support life-saving research. Now, 15 years and more than $6.5 million raised later, Dr. and Christine Cheson will join hundreds for a nationwide virtual celebration on September 25, and hundreds in the DC, Maryland, and Virginia (DMV) for the 15th Annual Lymphoma Research Ride on October 3.
The Lymphoma Research Ride has grown to be one of the Lymphoma Research Foundation's (LRF) premiere peer-to-peer fundraising events, bringing cyclists of all levels together to pedal for cures for lymphoma. Each year, dedicated Ride teams collectively raise on average $450,000 to support LRF's research programs, and critical education and support services for lymphoma patients, survivors, and their loved ones.
Responding to COVID-19, Keeping the Community Safe
In accordance with social distancing best practices, the live Ride in Barnesville, Maryland will be limited to 200 riders and will have rolling start times. However, supporters from across the country are encouraged to join the Ride, map their own local route, and fundraise to support LRF's mission.
A Great Family Event
The Lymphoma Research Ride is a fun family event and provides 10, 25 and 40-mile route options that are great for cyclists of all levels. To learn more about the Ride or to register, visit lymphoma.org/researchride.
MEET THIS YEAR'S CHAMPION RIDE COUNCIL!
Register for the 15th Annual Lymphoma Research Ride by Monday, September 13, and join a special event to receive lymphoma research and treatment updates from this year's Champion Ride Council. The Ride Council includes lymphoma experts from prominent institutions including the Center for Cancer and Blood Disorders, Dana-Farber Cancer Institute, and Georgetown Lombardi Comprehensive Cancer Center. Learn more at lymphoma.org/researchride.
Read More Articles from Pulse
Pulse is a publication of the Lymphoma Research Foundation, providing the latest updates on the Foundation and its focus on lymphoma and chronic lymphocytic leukemia (CLL) research, awareness and education. Read more >