Where Are They Now? Deborah Stephens, DO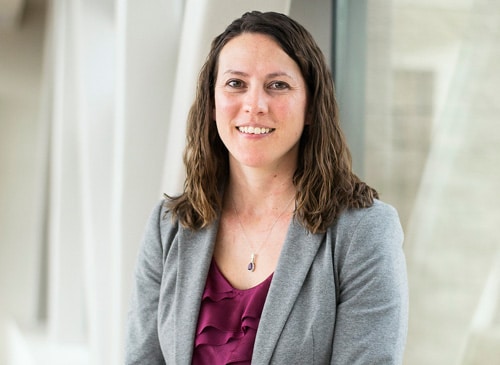 When did you become interested in the study of medicine? In lymphoma specifically?
I grew up on a farm, and my mom told me she knew I would go into medicine because I loved watching my grandpa and dad deliver calves and give cows their vaccinations. In high school, I hurt my back playing basketball and was treated by a chiropractor. I thought I wanted to be a chiropractor and started shadowing him. Based on the questions that I asked, he asked me if I had ever thought about going into osteopathic medicine. I had actually never heard of osteopathic medicine before. However, I started shadowing our local family doctor and I really liked the integration of holistic medicine and the long-term connection that physicians have with their patients.
On hematology consults as a resident at Cleveland Clinic, I remember seeing a very sick patient with HLH that was related to an underlying T-cell lymphoma. This experience piqued my interest in lymphoma.
Then, as a fellow at The Ohio State University, I met with former Scientific Advisory Board (SAB) member Dr. John Byrd and started working on a research project with him. After about a week of working in his clinic, I knew I wanted to see patients with CLL and lymphoma and focus on clinical research. Looping back to my original experience, I liked the long-term connection with the patients.
At what point in your career did you receive funding from the Lymphoma Research Foundation (LRF)? What kind of grant(s) did you receive?
During my last year of fellowship, I received the Lymphoma Research Foundation Scientific Research Mentoring Program grant (LSRMP).
What scientifi c project did you pursue as part of your LRF research grant(s)?
My project was a phase 1 clinical trial of ibrutinib and selinexor for patients with CLL and lymphoma. We determined the maximum tolerated doses of the combination. This trial is now completed and published in Clinical Cancer Research.
How has the treatment landscape for lymphoma/CLL changed since you first started conducting your research?
When I was a fellow at The Ohio State University, I had the opportunity to see patients treated in the first clinical trials with ibrutinib. These patients would come to the clinic saying that their doctor had told them that there were no more options for treatment of their cancer. Then, they would go on a trial with ibrutinib and it would change their lives. Patients who were previously in hospice were feeling well and back to living their lives. After ibrutinib, many other highly efficacious targeted therapies have been developed, changing the treatment landscape, especially for patients with CLL. I have been honored to be a part of the development of acalabrutinib and nemtabrutinib, second- and third-generation BTK inhibitors improving upon ibrutinib's success.
Another breakthrough since I started conducting my research was chimeric antigen receptor T-cell therapy (CAR T). I wanted to open a clinical trial using CAR T therapy in patients with CLL at Huntsman Cancer Institute. Minor problem was that we didn't have a CAR T program and had never done this treatment at HCI. So with the help of a fantastic team, I helped establish the CAR T program at HCI. Subsequently, we opened the phase 1 study with liso-cel for patients with CLL, and I hope these data will support FDA approval for patients with CLL at some point in the future.
Was the support and grant funding you received from LRF vital to advancing/dedicating your career to studying lymphoma?
The LRF grant that I received was vital to advancing my career. I cannot say enough good things about this program. It helped me to understand the design and management of clinical trials. It also helped me to form a mentoring network of experts across the country. My co-awardees and friends still meet up at ASH every year to catch up. Shout out to the LRF Class of 2014!
How has your involvement with LRF evolved since receiving an early career grant?
I have evolved from a mentee to a mentor. Since I feel that the LSRMP is so crucial to career development, I have encouraged junior faculty working with me to apply. Two junior faculty have successfully earned the award and one of the fellows I'm working with is applying this year. I have enjoyed serving as a mentor for this program.
Additionally, I enjoy educating patients and have given many educational talks for patients with lymphoma and CLL through LRF's outreach programs.
Why is LRF's mission and focus on lymphoma-specific research and programming important? Put another way: How would the lymphoma community be impacted if there was no LRF?
LRF is critical for so many reasons:
The patient education and assistance provided to patients is invaluable to help them understand their diseases.
The career development grant programs help fellows and junior faculty form a network of mentors and colleagues across the country to collaborate on nationwide research that changes the standard of care for these patients. The career development grants also help to protect time for junior faculty to complete these important research projects.
What research or projects are you currently pursuing that you would like to share with our readers?
I now serve as the CLL Lead for the SWOG Leukemia Group. As a part of this group, I developed, planned, and now lead an international clinical trial investigating early intervention for patients with CLL, the S1925 EVOLVE CLL study. We are actively enrolling over 200 patients in an attempt to determine whether early intervention can prolong the lives of these patients.
As CLL causes immunosuppression leading to advanced second cancers and severe infection, I'm invested in finding ways to prevent the complications of CLL. I currently have a trial with the goal of preventing skin cancer and pinpointing the origin of skin cancer in patients with CLL. I received an NCCN grant to complete this project. Additionally, I have a clinical trial looking at vaccine strategies for patients with CLL with the goal of preventing pneumonia.
What are you most excited about in the field of lymphoma research today? Why?
Everything is exciting in the field of lymphoma research today! The field is advancing so quickly that treatments I talk to my patients about today may be replaced by something even better in just a few short years. I'm specifically interested in next-generation B-cell receptor signaling inhibitors, immunotherapy with CAR T and bispecific antibodies, and novel treatments for Richter's transformation.
Read More Articles from Pulse
Pulse is a publication of the Lymphoma Research Foundation, providing the latest updates on the Foundation and its focus on lymphoma and chronic lymphocytic leukemia (CLL) research, awareness, and education