Latest News
Where Are They Now? Paolo Strati, MD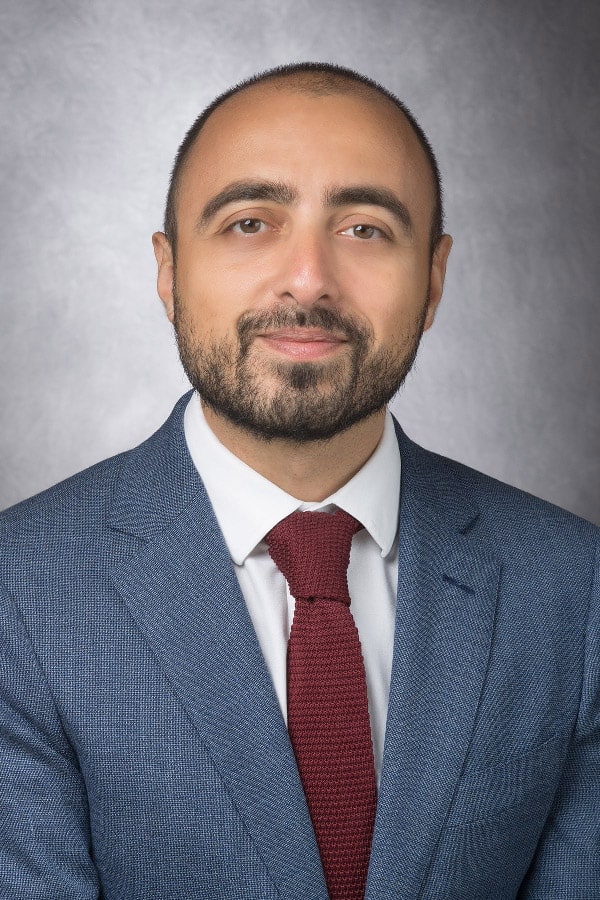 When did you become interested in the study of medicine? In lymphoma specifically?
My pathway to medicine has not been linear nor as smooth as you would think, as pretty much nothing in my life. Coming from a past of financial and social hardship, I have always been used to moving the center of attention outside of myself and focusing on others' needs. This has naturally brought me to work that would allow me to continue to care for others. During medical school, thanks to an amazing mentor, Dr. Federico Caligaris-Cappio, I fell in love with the biology of lymphoid malignancies and remained fascinated by the fast and dynamic development of their treatments. The latter made me realize I could not just simply care for specific individuals, but during a lifetime I could impact the lives of an entire population of patients. That was very powerful for me, and this love has only grown over the last 20 years.
At what point in your career did you receive funding from the Lymphoma Research Foundation (LRF)? What kind of grant(s) did you receive?
I received the Lymphoma Research Foundation (LRF) Lymphoma Scientific Research Mentoring Program (LSRMP) Award in 2018, during my final years of Hematology-Oncology Fellowship at the University of Texas MD Anderson Cancer Center, Houston, TX. I was then lucky to receive, only one year later, the LRF Career Development Award (CDA), as I started my academic appointment as Assistant Professor in the Department of Lymphoma and Myeloma in the same institution. I cannot truly emphasize enough how, in different ways and at different stages of my life, these grants have played a critical role in my personal growth and career.
What scientific project did you pursue as part of your LRF research grant(s)?
As part of my LRF mentoring program award, I worked on a project aimed at targeting macrophages to improve the efficacy of frontline immunotherapy for the treatment of patients with indolent B-cell lymphoma. With the guidance of my mentors, I have generated novel translational data to support this project, now published on Blood Advances, and wrote two investigator-initiated studies, one of which has now completed enrollment and that I hope to present soon. As part of my LRF CDA, I have worked on a project aimed at manipulating macrophage biology to mitigate toxicities associated with the use of CAR T-cell therapy in patients with aggressive B-cell lymphoma. With the support of my LRF and intra-mural mentors, Dr. Sattva Neelapu and Dr. Michael Green, we have published on Nature Medicine the rationale for a novel investigator-initiated study, whose results will be presented at the upcoming annual meeting of the American Society of Hematology.
How has the treatment landscape for lymphoma/CLL changed since you first started conducting your research?
The therapeutic landscape of lymphoma is very dynamic, which is the main driver for my enthusiasm in the field. Since I first started conducting my LRF-funded research, the field has quickly moved from autologous CAR T-cell therapies to allogeneic novel cellular therapies. The latter show promising activity, which significantly improved the safety profile with the advantage of not being immunologically impacted by the patient's previous treatment and is readily available ("off-the-shelf"). I am currently leading two clinical trials investigating the safety and efficacy of two allogeneic NK cell-based cellular therapies, and their future seems bright. Bispecific antibodies are also starting to steal CAR T-cell therapy's thunder, with novel macrophage-targeting bispecific drugs finally appearing on the horizon. While it is not yet primetime for the latter, I am thrilled to be an active part of their development.
How has your LSRMP and CDA research impacted the work you do today?
The research I have generated through the LRF LSRMP and CDA has fundamentally defined who I am today. Thanks to the clinical research expertise I have developed with both projects I previously described, I am currently leading multiple investigator-initiated and industry-sponsored clinical trials all focused on targeting macrophage biology to increase the efficacy and decrease the toxicity of immunotherapies and cellular therapies for the treatment of patients with B-cell lymphoma. In addition, thanks to the translational skills I have refined through the LRF, I now direct the Lymphoma Tissue Bank at my institution, and I have a joined appointment in the Department of Translational Molecular Pathology, aimed at developing novel multiplexed imaging assays for a better characterization of tissue macrophages.
Was the support and grant funding you received from LRF vital to advancing/ dedicating your career to studying lymphoma?
When I look back and see what I have been able to achieve over the last 4 years as a clinical translational investigator, I can't help acknowledging it would have never been possible without the support and grant funding I received from LRF.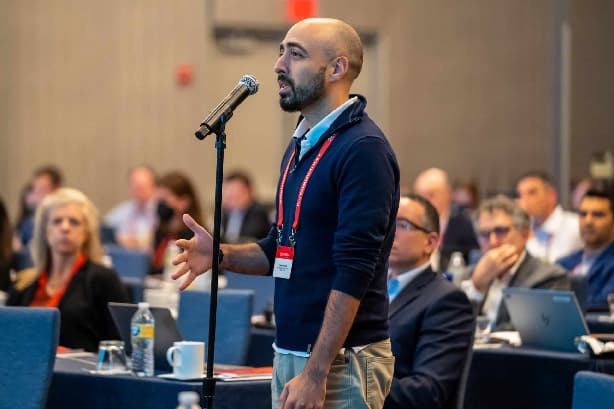 In 2018, I received the LRF LSRMP, I was at a significant life fork, due to work opportunities that presented then, I was switching my focus of research from CLL to B-cell lymphoma. That was a scary change, as I needed to start my research from scratch and build from the beginning my reputation in a field in which I was completely unknown. Having access, in a relatively informal setting, to world leaders in the field, and the opportunity to follow up with them regularly has made that transition quick, smooth, and successful. The advice and guidance I received was and remains invaluable. And the relationships I have built were precious: still to this day, I call monthly my LRF mentor Dr. LaCasce, though technically my grant ended years ago!
But the role played by the grant funding is also not trivial. Receiving an LRF CDA exactly at the beginning of my faculty appointment has been a blessing, as that has granted me the necessary research time and resources to effectively and timely succeed in my endeavors. My gratitude to the LRF is deep and sincere.
There has been much progress made in the treatment of B-cell lymphomas, including the development of novel therapies like CAR T cell therapy to treat lymphoma. Can you describe your work in this area? Do these advancements represent a new frontier in the treatment of relapsed or refractory lymphomas?
My research is indeed committed to improving the efficacy and mitigating the toxicity of CAR T-cell therapy for patients with aggressive B-cell lymphoma. With the support from LRF, I have generated translational data, now published on Leukemia, showing that macrophage biology plays a crucial role in the response to therapies provided right before CAR T-cell infusion, and I am now working on an innovative investigator-initiated trial, where novel agents targeting macrophages will be employed as a bridging therapy to CAR T, and hopefully even replace conditioning chemotherapy in the future. I have also generated clinical data, identifying predictive factors of conversion from partial to complete response after CAR T-cell therapy, and I am actively enrolling in an investigator-initiated trial of consolidation treatment with loncastuximab for these patients. I have also worked with my mentors and collaborators to demonstrate how critical interleukin-1 (IL-1) is in the etiology of CAR T-cell therapy-associated neurotoxicity, and while I have already completed an investigator-initiated trial using anakinra (an IL-1 receptor antagonist) for its prophylaxis, I am actively working on the development of novel agents to further mitigate this and other toxicities, including cytopenia. Finally, as mentioned previously, I am leading the development of novel non-Tcell- based allogeneic products, and I am very excited about their safety and efficacy profile. It is a great time to work in the field of cellular therapy, and I am honored to be part of this story.
How has your involvement with LRF evolved since receiving an early career grant?
Considering everything I have received from LRF, which has gone way beyond what I could have hoped for, I have felt immediately committed to paying back. Over the last few years, I have started to review applications for the translational track of the LRF LSRMP. That is an extremely rewarding experience, as it allows me, through my feedback, to give scientific guidance and inspiration for overall career improvement. I also regularly participate as a speaker to the national and local chapters of LRF for patient education, and I have been one of the local leaders for the annual LRF walk. Moving forward, I hope to become a mentor within the LRF LSRMP, in order to be ultimately able to fully give back all the support and guidance I received, and see somebody else blossom, the same way I did thanks to the LRF.
Why is LRF's mission and focus on lymphoma-specific research and research programming important? Put another way: how would the lymphoma community be impacted if there was no LRF?
I think the LRF does something unique, which is bringing together from all over the world basic, translational, and clinical investigators who are enthusiastic about lymphoma. Having in the same room the best minds in the field, for mentoring programs, grant review sessions, disease-specific meetings, and patient education conferences is not trivial. That fosters ideas, collaborations, and growth. And identifying and nurturing early in their career the future leader in the field is phenomenal, as it optimizes the process of research and care. Lymphoma is a rare disease, and it does not frequently make it to the podium when diluted with other more frequent oncological conditions. The LRF acknowledges all the work investigators do in the field and values the experience of all patients with lymphoma. Without the LRF, the lymphoma community would not be as strong and successful as I believe it is now.
What research or projects are you currently pursuing that you would like to share with our readers?
In addition to the CAR T-cell therapy-focused research I have already summarized; I am also working on improving the efficacy of immunotherapy for patients with indolent B-cell lymphoma. Thanks to the LRF, I have generated translational data demonstrating that macrophages may mediate resistance to this treatment strategy, which may be overcome using BTK inhibitors. Data for both patients with relapsed refractory and previously untreated indolent B-cell lymphoma, from an industry-sponsor and an investigator-initiated study respectively, will be presented at upcoming scientific conferences. I am now analyzing samples obtained from the latter study, trying to understand better how BTK inhibition affects macrophages and how early its combination with immunotherapy can result in minimal residual disease eradication. Building on this, I am also leading an industry-sponsored trial investigating the activity of a SIRPa inhibitor for patients who relapse after immunotherapy, and an investigator-initiated trial combining a CD47 inhibitor with immunotherapy for patients with relapsed indolent B-cell lymphoma. The analysis of samples derived from the latter, using novel multiplexed imaging assays, will help inform future combinations and potentially the generation of macrophage-based cellular therapies. Finally, I am analyzing the immune microenvironment of patients with previously untreated indolent B-cell lymphoma, and I hope to identify biomarkers that will help us better select patients for the use of immunotherapy.
What are you most excited about in the field of lymphoma research today? Why?
In the first place, I am excited by the ability we now have to analyze the immune microenvironment of patients with lymphoma without altering its composition, as I strongly believe that tissue-based novel imaging assay will help us understand in a less biased way the true mechanism of therapeutic efficacy and resistance in these patients. Secondly, I am sincerely excited by the long duration of response we now see with the use of immunotherapy and cellular therapies in patients with heavily pre-treated lymphoma, and the promising safety profile of novel products. When I started, we did not dare to use the term cure, but now I see more of my colleagues having the courage to acknowledge that what we do may just not be life-prolonging. The thought of this gets me up in the morning and keeps me going all day and night, no matter how consuming and challenging this work may be. I am privileged to do research in lymphoma these days.
Read More Articles from Pulse
Pulse is a publication of the Lymphoma Research Foundation, providing the latest updates on the Foundation and its focus on lymphoma and chronic lymphocytic leukemia (CLL) research, awareness, and education