Treatment Planning and Options
How to Communicate With Your Healthcare Team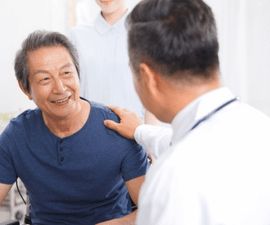 Patients can ease their anxieties by establishing open, honest communication with their doctor and nurse regarding their diagnosis, and learning about what the prescribed treatment regimen is, how it works, what tests are involved, and what side effects and complications may be associated with it.
A good first step is to write down all questions that come to mind. Before meeting with a doctor or nurse, whether for the first time or for follow-up visits, consider organizing these questions to bring to the visit. Consider using the LRF mobile app, Focus on Lymphoma, or the Lymphoma Care Plan, to keep track of your questions and the information provided by your doctor and other members of your healthcare team.
Patients should also consider having a family member or close friend accompany them to the doctor's office or clinic to help ask questions and understand and remember answers. A companion could also help by taking notes during the visit. Some patients bring a recording device to record the answers.
Most oncology nurses are also very well informed about cancer treatments and are a good source of information on a wide range of topics. Oncology social workers are also available to assist with practical and emotional needs from the time of diagnosis and onwards.
Tips to communicate with your doctors and for doctor visits:
Make a list of questions to ask–but if the questions are urgent, do not wait for the next visit; call the doctor's office to discuss concerns
Keep a journal of symptoms experienced and bring to the next doctor's visit
Ask a family member or friend to accompany to provide emotional support and take notes
Don't be afraid to ask questions if something is hard to understand
Call the doctor's office if experiencing a side effect that is unexpected or lasts longer than expected or a medical problem–such as high fever, shortness of breath, prolonged nausea/vomiting, etc.