Treatment Planning and Options
Selecting a Healthcare Team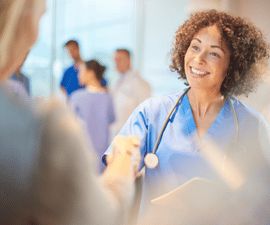 A patient's primary care doctor will probably have referred them to a specialist–likely a medical oncologist, hematologist, or hematologist/oncologist. Oncologists are physicians who specialize in diagnosis and treating patients with cancer. Hematologists are physicians who specialize in diagnosing and treating patients with disorders of the blood and lymphatic system, like lymphoma.
Before agreeing to treatment by a specific specialist and treatment center, make sure that they will be able to meet all medical and personal needs. Patients should feel comfortable with the healthcare team and the quality of the care they provide.
Questions to Ask When Selecting a Healthcare Team:
What are the credentials of the specialist, the other members of the medical team, and the hospital or cancer center?
Is the specialist board certified as a medical oncologist and/or hematologist? Has the doctor passed qualifying examinations by the American Board of Internal Medicine to certify competency in these specialties?
How much experience does the specialist and treatment center have in treating patients with cancer in general, and any subtypes in particular?
How many patients with this disease are being treated here now?
Does the specialist and/or center participate in clinical trials?
How much time does the specialist spend on research and how much on the treatment of patients with lymphoma?
Is the specialist a member of the American Society of Clinical Oncology and/or the American Society of Hematology?
Does the clinic or center have modern surgical facilities and diagnostic equipment?
Is the specialist or clinic affiliated with any major medical center or medical school?
What arrangements are made for medical coverage after hours and on weekends, in case of an emergency?
Is my health insurance accepted at this center? Will the office file claims for reimbursement and process the paperwork?
What kind of patient resources does the clinic or cancer center have for patients with my disease?
Helpful Resources: