Treatment Planning and Options
Integrative Oncology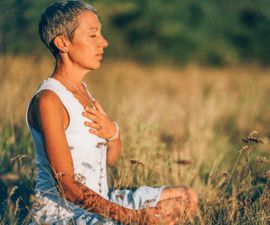 Integrative medicine in cancer care, called integrative oncology, combines traditional or conventional cancer care with complementary therapies. The goal of complementary therapies is to lessen the side effects of the disease and its treatment and to improve the patient's quality of life.
The use of complementary remedies to treat illness has a long history in the United States. However, it was not until 1992 when the National Institute of Health launched the Office of Alternative Medicine–now known as the National Cancer for Complementary and Integrative Health–that the study of complementary therapies gained real legitimacy in the medical field and many interventions are now evidence-based.
Complementary therapy includes:
Natural products such as herbs, botanicals, vitamins, minerals, and probiotics
Mind/body relaxation techniques such as Tai Chi, yoga, mediation, and music therapy
Acupuncture
Massage therapy
Complementary Therapy vs. Alternative Therapy
Complementary therapies differ from alternative therapies, which are remedies used instead of standard or proven therapy. Because many lymphomas are treatable and some are curable with conventional medical care, patients diagnosed with lymphoma should never consider using only alternative treatment for cancer, regardless of unproven claims on the internet and elsewhere.
What to Avoid
While some complementary/integrative therapies, including meditation, acupuncture, and therapeutic massage, have been found to be safe and effective for providing relief from cancer treatment, other complementary therapies (such as herbs, vitamins, and antioxidants) may actually be harmful. These supplements can reduce the effectiveness and increase the toxicity of cancer therapy such as chemotherapy and radiation therapy. Combining herbal remedies with conventional chemotherapy is also not recommended.
Before starting any complementary treatment, patients should speak with their physician.
Questions to ask your doctor about complementary/integrative treatment:
Am I a candidate for integrative oncology?
What types of integrative oncology would be most beneficial for me?
How much physical activity do I need each day?
Which food and drinks should I consume, and which ones should I avoid?
---
Helpful Resources: